Rwanda's Augustin Ndindiliyimana cleared of genocide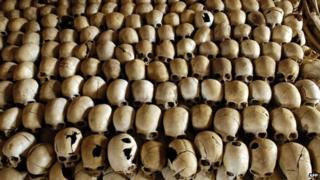 A Rwandan ex-paramilitary police chief found guilty of genocide by a UN-backed war crimes tribunal has been acquitted on appeal.
Gen Augustin Ndindiliyimana was already free as his sentence was the 11 years he had spent in custody awaiting trial.
He was one of the most senior figures to be sentenced by the International Criminal Tribunal for Rwanda (ICTR).
He was put on trial with ex-army chief Gen Augustin Bizimungu, who was given 30 years and is also appealing.
Two other officers were convicted with the generals and their appeal verdicts were also announced on Tuesday.
Major Francois-Xavier Nzuwonemeye, the former commander of a reconnaissance battalion, and his second in command, Capt Innocent Sagahutu, were accused of ordering the murder of Prime Minister Agathe Uwilingiyimana and were serving 20-year sentences for crimes against humanity.
On Tuesday, Maj Nzuwonemeye was acquitted and Sagahutu has his jail term reduced to 15 years.
Safe house
Gen Ndindiliyimana and Gen Bizimungu were two of the three most senior military figures tried by the court based in the Tanzanian town of Arusha.
The judgement said it noted that Gen Ndindiliyimana, who was arrested in Belgium in 2000, had "limited command over the gendarmerie after 6 April 1994… and his opposition to the massacres in Rwanda".
The BBC's Balthazar Nduwayezu in Arusha says Gen Ndindiliyimana has been living in an ICTR safe house in the Tanzanian town since his release nearly three years ago, after he was sentenced.
He is unable to return to Rwanda and no other country has yet agreed to take him, although he hopes to join his family in Belgium, our correspondent says.
Rwanda's genocide started was sparked by the death of former President Juvenal Habyarimana who was killed when his plane was shot down close to the capital, Kigali, on 6 April 1994.
Within hours of the attack, certain members of the government organised ethnic Hutu militias across the country to systematically kill Tutsis and moderate Hutus, resulting in more than three months of violence in which some 800,000 people died.
When the four officers were convicted in May 2011, Bizimungu was found to have been in complete control over the men he commanded in 1994.