Kenya fan stabbed to death after Arsenal-Liverpool game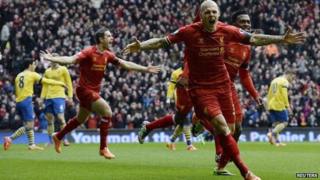 Police in Kenya are hunting a murder suspect after a Liverpool supporter was stabbed to death following the Arsenal-Liverpool match on Saturday.
The man taunted a rival fan about his team's 5-1 victory after they had watched the match together in a bar in the town of Meru, residents say.
They say the Arsenal fan then pulled out a knife and stabbed the man, who died in hospital.
Many Kenyans are fanatical followers of English football.
The BBC's Angela Ngendo in the capital Nairobi says bars and video dens, where people pay to watch TV in slum areas, are usually crowded for the big matches, no matter what local time they are played.
Supporters wear replica kits - both fakes and original ones, despite their high cost - to watch the games, she says.
During the matches, fans bet on the outcomes and often heckle each other, leading to fights.
Our correspondent says this is not the first time that rival Kenyan fans have stabbed each other - it has happened over both English games and those in the local league.
Last year, a Manchester United fan killed himself after his team lost to Newcastle United.
In 2009, an Arsenal fan hanged himself after his team lost to Manchester United.
Meru police chief Tom Odero told the BBC that he could not comment on a possible motive for the latest death as the suspect had not been apprehended.