Tunisia arrests suspect over killing of Mohamed Brahmi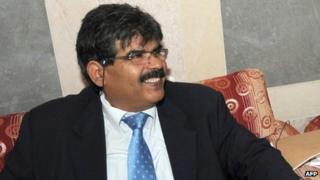 Security forces in Tunisia have arrested an Islamist suspect in the assassination last year of a prominent opposition politician, Mohamed Brahmi.
The suspect Hmed el-Melki - alias "Somali" - was captured outside Tunis, said an interior ministry spokesman.
It followed a fierce gunfight at a house in which "a terrorist group had holed up", said Mohamed Ali Aroui.
The killing of Mr Brahmi and another opposition leader, Chokri Belaid, plunged Tunisia into political crisis.
The government was eventually forced to resign.
On Tuesday another suspect in the killings of both politicians - Kamel Gadhgadhi - was shot dead as special units from the National Guard stormed a house in Tunis.
Tunisian security forces have fought a long campaign against Islamist militants over the past two years.