ICC opens CAR 'war crimes' preliminary investigation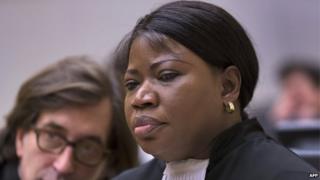 The International Criminal Court's chief prosecutor Fatou Bensouda says she has opened a preliminary investigation into possible war crimes in the Central African Republic (CAR).
Fatou Bensouda said she had received reports of "extreme brutality by various groups".
Tens of thousands of Muslims have already fled to Cameroon and Chad.
CAR, one of Africa's poorest nations, has been in chaos for more than a year after Muslim rebels seized power.
Mrs Bensouda said that her investigations so far included "hundreds of killings, acts of rape and sexual slavery, destruction of property, pillaging, torture, forced displacement and recruitment and use of children in hostilities."
She added that "in many incidents, victims appear to have been deliberately targeted on religious grounds.''
Accounts of violence in CAR have become increasingly brutal, with reports of mob killings common.
On Friday morning, witnesses said thousands of Muslims piled on to trucks in the capital Bangui to leave the city, escorted by Chadian peacekeepers.
One person who fell off one of the trucks was killed by a crowd and his body mutilated, witnesses said.
Rebel leader Michel Djotodia, who became CAR's first Muslim leader, resigned as interim president last month as part of a regional peace process, but the violence has continued.
The rebels, who called themselves Seleka, were blamed for a series of deadly attacks on Christians that prompted the creation of Christian militias - widely known as "anti-balaka", meaning anti-machete.
The UN Security Council authorised French and African troops to intervene last December.
Charity Medecins Sans Frontieres (MSF) said all communities were affected by the violence, but lately there have been collective reprisals against Muslims.
According to MSF, about 30,000 refugees are already in Chad and another 10,000 have reached Cameroon.
In Bangui, Muslim families are gathering in a separate camp at the airport, in the great mosque and several other sites waiting to leave or hoping for some protection, the charity said.