South African miners: Two die in Harmony Gold accidents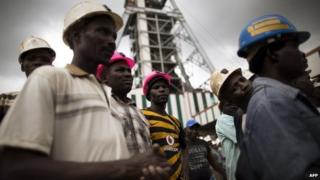 Two miners have died in separate accidents at mines owned by Harmony Gold in South Africa.
They follow the deaths earlier this week of eight miners in a fire and subsequent rock fall at Harmony Gold's Doornkop mine, west of Johannesburg.
Rescuers are still trying to locate a miner at Doornkop who might have been underground at the time of the fire.
Mining experts have called for an investigation into Harmony Gold's safety measures.
It is not clear what caused the Doornkop accident, which happened on Tuesday evening about 1,700m (5,600ft) below ground after some seismic activity in the area.
Correspondents say it was the most serious accident in South Africa's mines since nine workers were killed in a rock fall at a platinum mine in July 2009.
Harmony Gold said the latest deaths occurred on Thursday at the company's Kusasalethu mine in North West province near Carletonville and at its Joel mine near Theunissen in the Free State.
The worker at Kusasalethu was killed by liquid paste-like gold ore waste that escaped from a container and the miner in Joel died in a blasting accident, Harmony Gold's spokesman James Duncan told the BBC.
Mining is a vital part of the South African economy and the country is the fourth-biggest gold exporter.
It also has some of the world's deepest gold mines and safety is a major issue.
In recent years the majority of deaths underground have occurred in illegal mines.
According to South Africa's Department of Mineral Resources, a 2008 study of the gold sector found that an estimated $509m (£309m) in revenue was lost a year as a result of illegal mining.
However, industry experts say since then the number of people involved in illegal mining has declined.