Central African Republic's Muslim civilians 'at risk'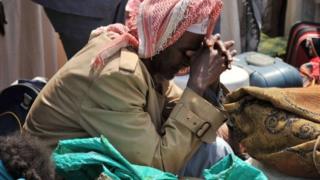 Muslim communities in many towns in the Central African Republic are threatened from reprisal attacks on civilians, a medical charity has warned.
Medecins Sans Frontieres said violence has reached intolerable and unprecedented levels.
Many thousands of the minority Muslim population have already fled to Chad or Cameroon.
CAR, one of Africa's poorest nations, descended into religious violence after Muslim rebels seized power last March.
Rebel leader Michel Djotodia, who became CAR's first Muslim leader, resigned as interim president last month as part of a regional peace process, but the violence has continued.
The rebels, who called themselves Seleka, were blamed for a series of deadly attacks on Christians that prompted the creation of Christian militias - widely knows as "anti-balaka", meaning anti-machete.
The UN Security Council authorised French and African troops to intervene last December.
'Killed as escaping'
MSF said all communities were affected by the violence, but lately there have been collective reprisals against Muslims.
"Civilians remain in constant fear for their lives, and have been largely left to fend for themselves," Martine Flokstra, MSF's emergency co-ordinator, said in a statement.
In the capital, Bangui, the charity said fighting and looting continued unabated and it had treated more than 1,650 wounded patients from both communities as a direct result of the violence in the last month.
On Friday morning, witnesses said thousands of Muslims piled on to trucks in Bangui to leave the city, escorted by Chadian peacekeepers.
One person who fell off one of the trucks was killed by a crowd and his body mutilated, witnesses said.
"In the north-west and in Bangui, we are currently witnessing a direct retaliation against the Muslim minority," said Ms Flokstra.
"We are concerned about the fate of these communities trapped in their villages, surrounded by anti-balaka groups."
Fighting in several north-western towns had forced the Muslim population to leave and on Wednesday 2,500 people fled the village of Bozoum, MSF said.
According to MSF, about 30,000 refugees are already in Chad and another 10,000 have reached Cameroon.
In Bangui, Muslim families are gathering in a separate camp at the airport, in the great Mosque and several other sites waiting to leave or hoping for some protection, the charity said.
On Wednesday, soldiers beat and stabbed a man accused of being a rebel just moments after interim President Catherine Samba-Panza finished speaking at an army ceremony.
Last month, the UN said it believed at least 10,000 troops might be required to end the unrest.
France, the former colonial power, has 1,600 troops in CAR working with some 4,000 troops from African countries.