South Sudan: MSF workers 'flee into bush'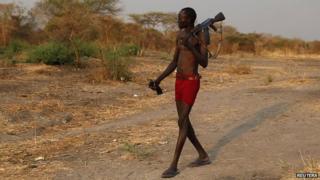 The medical charity MSF says 240 of its staff have been forced to flee into the bush in South Sudan because of continuing insecurity.
MSF said the workers were among thousands of people trying to escape fighting in Unity State between government forces and rebels.
Violence broke out in the world's newest state on 15 December, starting as fighting between rival army factions
It has now killed thousands of people and displaced around 700,000.
A fragile ceasefire was agreed last week ahead of a second round of peace talks due to start on 7 February.
Rebel leader Riek Machar denies plotting a coup, but says he wants President Salva Kiir to resign.
The former vice-president told Reuters on Friday that government attempts to charge him with treason were an effort to derail the ceasefire.
MSF head of mission Raphael Gorgeu said local staff had continued running the hospital in the town of Leer for as long as they could, "despite incredibly challenging circumstances".
"However in the past three days, the situation became too unstable and the only way to provide medical care was to take patients out of the hospital and to flee with the population into the bush."
The agency said the hospital, where it has worked for 25 years, was now empty of patients and staff.