Central African Republic clashes 'kill 43' in Bangui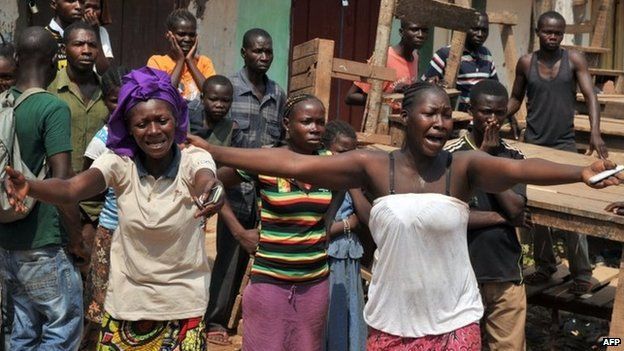 Fighting in the Central African Republic capital has left 43 people dead in four days, the country's Red Cross society says.
The violence in Bangui had also left 71 wounded, the country's Red Cross said.
There have been widespread reports of revenge attacks as mainly Muslim fighters withdraw from the city.
The violence has continued even though a new leader was inaugurated earlier this month as part of regional efforts to bring peace after months of anarchy.
France, the former colonial power, has 1,600 troops in CAR, working with some 4,000 from African countries to help end the violence which has seen about a million people - 20% of the population - flee their homes.
But earlier this week, the UN said it believed at least 10,000 troops may be required in any force sent to end the unrest, which began when Seleka rebels overthrew the president last March.
What started out as a conflict fuelled by ethnic rivalries has become religious in nature, with the emergence of Christian "anti-balaka" militias taking on the former rebels. Both sides have been accused of targeting civilians.
Antoine Mbao Bogo, head of the CAR's Red Cross, said that a total of 35 bodies had been recovered from the streets in many areas of the city over the last three days and eight more bodies had been found on Friday morning.
He said the victims were from both the Muslim and Christian communities.
"A few weeks ago people were dying more from gun wounds... but now it is mostly from things like knives. Sometimes they burn the corpses," he told the BBC's Focus on Africa radio programme.
His colleague, Georgios Georgantas, leader of the International Committee of the Red Cross (ICRC) delegation in the CAR, told the AFP news agency that an "unprecedented level of violence" was being seen in the city.
Earlier this week, a human rights worker told the BBC how he had witnessed a mob of suspected "anti-balakas" mutilating the body of two Muslim men recently killed with machetes.
"It really was a scene of absolute horror. People were filming this on their cell phones and many were laughing," Peter Bouckaert, director of emergencies for Human Rights Watch, told Focus on Africa.
Mr Georgantas urged civilians to "to respect the emblem of the Red Cross", AFP reports.
"When we go through roadblocks to evacuate the wounded, each trip calls for long and difficult negotiations to move on. This endangers the lives of the wounded and causes a lot of stress to our personnel," he said.
Related Internet Links
The BBC is not responsible for the content of external sites.