Nigerian PDP senators in mass defection to APC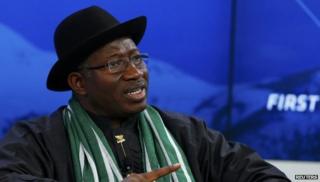 At least 11 senators from Nigerian President Goodluck Jonathan's party have quit to join the opposition, the latest in a series of defections.
The senators signed a letter that cited "factionalisation" in the governing People's Democratic Party (PDP), without specifying further.
The PDP still has a Senate majority but needs opposition help to pass bills.
Analysts say many in the PDP are upset because they believe Mr Jonathan intends to stand for a second term.
The PDP has won every national election since the end of military rule in 1999.
But some 37 members of the house of representatives defected last year, wiping out the party's majority in the lower house.
Several state governors have also defected to the APC, and the BBC's Sola Odunfa in Lagos says that many more may be waiting to do so.
The senators and the representatives joined the All Progressives Congress (APC), which now has 33 senators in the 109-member chamber.
The APC has called on its members to block all legislation, including the 2014 budget.
The party said it wanted the "rule of law" restored in oil-rich Rivers state and "Nigeria in general".
'Division and factionalisation'
The defectors announced their decision in a letter to Senate leader David Mark.
"This action and decision is as a result of the division and factionalisation" in the PDP, it said.
The letter contains the names of 16 senators in total but only carries 11 signatures.
The defections are the latest in a long list of problems confronting Mr Jonathan, whose leadership has recently come in for high-profile criticism from within the PDP.
Former President Olusegun Obasanjo, political benefactor of Mr Jonathan and a strong influence within the party, wrote a damning letter last month cataloguing alleged personal shortcomings of the president and his style of governance.
Mr Jonathan took over after his predecessor died in office, and went on to win a presidential election in 2011.
The party usually alternates between leaders from the mainly Muslim north and the south, where most people are Christian.
Mr Jonathan is a southerner, so party grandees from the north may well believe it is the turn of a northerner to stand, analysts say.