South Sudan 'coup leaders' face treason trial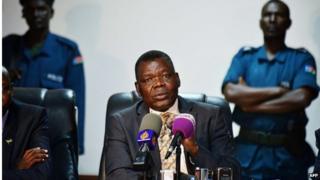 Seven South Sudanese politicians face charges of treason over an alleged coup attempt in December that sparked weeks of fighting, the authorities have said.
Eleven officials were arrested at the time and the rebel side has made their release a condition of any peace deal to follow last week's ceasefire.
Those to be tried include three people not in custody, including ex-Vice-President Riek Machar.
Seven of the other detainees have been released to the authorities in Kenya.
They have appeared at a news conference with Kenyan President Uhuru Kenyatta in the capital, Nairobi.
Correspondents say the treason charges, announced by South Sudan's Justice Minister Paulino Wanawila, could jeopardise the ceasefire deal.
The government had previously indicated that it might grant an amnesty the detainees, who are prominent political figures from a faction of the governing SPLM party.
It underscores the animosity between the government of President Salva Kiir and the rebels, many of whom are loyal to Mr Machar.
Although both men have supporters from across South Sudan's ethnic divides, fighting has often been communal, with rebels targeting members of Mr Kiir's Dinka ethnic group and government soldiers attacking Nuers.
Mr Kiir accused Mr Machar and other former officials of attempting a coup after fighting broke out in the capital Juba on 15 December, something Mr Machar denies.
'Not bitter'
Mr Wanawila said treason charges would be brought against four men who were already in custody, plus three men on the run.
"If someone violates the law you don't go and torture that person, you prosecute that person according to the law," he said.
The seven men targeted for trial include:
Riek Machar, whose sacking in July as Mr Kiir's deputy sparked much of the unrest
Pagan Amum, former secretary general of the ruling party
Former National Security Minister Oyai Deng Ajak
Former ambassador to the US Ezekiel Lol Gatkuoth
Chief rebel delegate Taban Deng, who signed the ceasefire.
One of the detainees released in Kenya, former South Sudan Justice Minister John Luke, said they wanted to work with mediators to quickly resolve the crisis.
"We don't feel bitter, we don't feel that the president is our enemy... we are all feeling sad about the tragic situation," he said at the news conference.
Both sides say they are committed to the ceasefire, but there is still fighting in some areas, and the United Nations has described the situation as "fragile".
Aid groups say up to 10,000 people have been killed in the conflict.
The UN says more than 646,000 people have been displaced inside South Sudan and more than 123,400 people have fled to neighbouring countries.
The UN's aid chief Valerie Amos has wrapped up a three-day visit to the country with a trip to Malakal, where she said some people were afraid to return home despite the truce.
Baroness Amos said the people she spoke to said they had "completely lost faith'' and wanted to be relocated to other parts of South Sudan, or even out of the country.