Letter from Africa: Rock'n'roll politics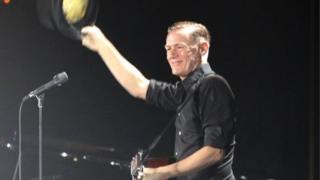 In our series of letters from African journalists, film-maker and columnist Farai Sevenzo considers the relationship between music and politics, following a sell-out concert by Bryan Adams in Zimbabwe.
I'm not a fan of soft rock, that syrupy genre of music sometimes set to swaying lighters in darkened stadiums or sentimental Hollywood blockbusters like Robin Hood: Prince of Thieves.
But while the world is so big and people's tastes so diverse, it is also true to say that the world is getting smaller as places are now so reachable.
So it should be no great surprise to learn that while I'm moved by the jazz giants and the reggae masters, the man in the village next to me might be a huge fan of Bryan Adams and can be heard humming (Everything I Do) I Do It for You on his way to water his yams while plugged into his iPod.
It would be wrong to think that Africa does not engage culturally with the world at large in this way, that the universal languages of cinema or music have somehow passed us by in the intractable mazes of our politics.
And so when human rights advocates got their megaphones out the other week to declare Canadian rock singer Bryan Adams's proposed concert at the Harare International Conference Centre "inappropriate", it brought this very issue to the fore.
Dewa Mavhinga, of Human Rights Watch, announced: "It might send the wrong message that Zimbabwe has come right and there is a basis for international cooperation to resume when there is not. Zimbabwe is going backwards."
'Dictator cash'
When we think of Angola, the long one-man rule of President Jose Eduardo dos Santos or the many barrels of oil that do not always trickle down to the needy may come to mind.
Or we may think of a country that ended three decades of war or became Africa's first winners at the Venice Biennale Art show.
Or the place Mariah Carey chose to accept $1m (£602,990) to play a concert for the Angolan Red Cross and was vilified for accepting "dictator cash".
And when we think of Zimbabwe we may see many problems of huge political significance and uncertainty - but the idea that a soft-rock icon playing to thousands who have spent their hard-earned sweaty dollar bills for a little light relief legitimises anybody or anything is a little overcooked.
Should the world engage with the country or continue isolating it?
We cooked this very theme when apartheid was with us on the statute books in South Africa.
During those years, Paul Simon brought Ladysmith Black Mambazo to the attention of the world, Nelson Mandela became a fan of Tracy Chapman and my own mother travelled to Port Elizabeth in the 1960s to watch Louis Armstrong growling out What a Wonderful World in one of the citadels of ignorant racism.
The rights activists and the politicians play a different game from the rest of us.
Any forensic search will probably find "dictator cash" all over the globe.
And while the story of Zimbabwe's international isolation has been with us for a decade and a half, these 15 years have brought about so many changes to the people's lives that it makes no sense to paint them with the same brush readily applied to their leaders.
We were told before the Bryan Adams concert happened that it would be these leaders who would fill up the venue's seats because they would be the only people able to afford tickets.
I do recall seeing a former information minister once dancing to African Rumba, but Bryan Adams was not on the DJ's set that night.
The EU recently lifted sanctions on the sale of Zimbabwe diamonds and up to 300,000 carats went on sale in Antwerp last December.
In the world of business it is still very much business as usual, but where this diamond money goes or what is to become of a cash-strapped Zanu-PF, the ruling party in its eighth term in office, has very little to do with an audience of predominantly white Africans in town to wave their lighters at a harmless rocker.
If you would like to comment on Farai Sevenzo's column, please do so below.