Sudan: Russian diplomat and wife 'stable' after stabbing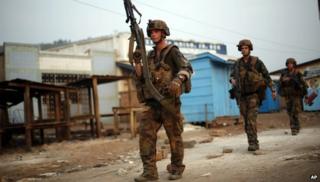 A Russian diplomat and his wife have been stabbed in the Sudanese capital Khartoum by a man anguished over the death of his brother in neighbouring Central African Republic, police say.
They said that the couple were wounded at the embassy gates, but are now in a stable condition.
The attacker had just heard his brother had been killed by European troops in his home country, police say.
He mistakenly believed that troops from Russia were responsible.
Russia has no peacekeeping troops in the Central African Republic (CAR).
Embassy guards and passers-by manage detained the suspect, who is from the CAR, a police statement said.
"Investigations showed that his brother was killed this morning in Bangui," the country's capital, the statement said.
"According to police investigation, the suspect came to Sudan for medical reasons and had no reason to carry out this crime except to get revenge for his brother."
The European Union agreed last week to send up to 600 troops to help African and French troops already deployed in the country to prevent further bloodshed between Muslim and Christian groups in the CAR.
French UN Envoy Gerard Araud said on Tuesday that at least 10,000 troops would be required in any force sent to end unrest in the country.