Central African Republic: Catherine Samba-Panza seeks troops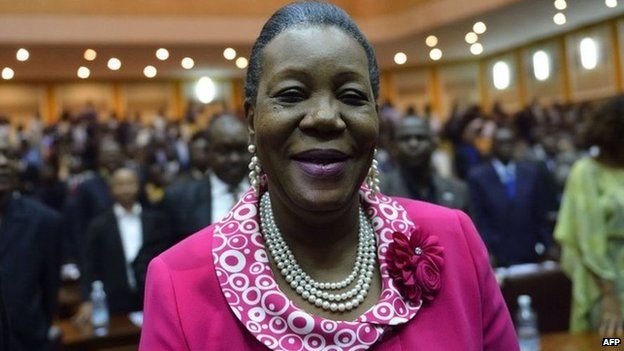 New Central African Republic leader Catherine Samba-Panza has asked both European and African countries to send more troops to help restore order.
The 59-year-old former mayor of the capital Bangui was elected by the interim parliament on Monday.
About a million people - 20% of the population - have fled their homes during months of religious violence.
Meanwhile, the French defence minister says a new mass grave has been discovered with 15 bodies.
Jean-Yves Le Drian told the AP news agency the bodies had been found outside Bangui.
France, the former colonial power, has 1,600 troops in CAR, working with some 4,000 from African countries.
On Monday, EU foreign ministers agreed to deploy about 500 more troops, reports the AFP news agency.
But Mrs Samba-Panza said more were needed.
"The current numbers are not enough to restore security and order," she told the BBC's Newsday programme.
"It is... important that our friends of the African Union nations continue to send us troops. But also the EU countries as I hear they are committed to get involved in the CAR security issues. We encourage them to support France in this mission."
She said she was confident she would be able to help reconcile the country's different groups.
"I am known for that. I have always been a moderate person; I have always been contributed to bring people together. At this moment we need a person with those qualities."
In 2003, she chaired a previous reconciliation process.
She said that the violence between Christian and Muslim groups had its roots in poverty.
"When a section of the population see that it can't progress, that it doesn't have the same opportunity to access economic resources as other citizens, that creates frustration, it results into identity introversion and it creates an explosion... And of course some people manipulate that - especially the religious aspects," she said.
Ms Samba-Panza succeeds CAR's first Muslim leader Michel Djotodia, who resigned on 10 January under pressure from regional leaders and the former colonial power, France, over his failure to curb the conflict.
She is a Christian but the successful businesswoman is seen as politically neutral.
She was accepted by both sides when she was proposed as Bangui's mayor under the interim administration.
CAR has a Christian majority and a minority Muslim population.
Mr Djotodia seized power in a rebellion last March, leading to attacks and counter-attacks between members of the two groups.
About 1,000 people were killed in December alone, leading to warnings of a genocide.
Although the clashes seemed to die down immediately after Mr Djotodia quit, more violence emerged later.
On Sunday, a Christian mob killed two Muslims and set their bodies alight at a roundabout in the capital.
They told the BBC's Thomas Fessy in Bangui that they were avenging the murder of a Christian. It is unclear whether the men had played any part in the violence or were targeted simply for being Muslim.