South Korean trade official kidnapped in Libya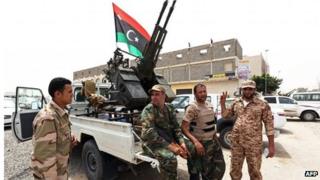 The head of South Korea's trade mission in Libya has been abducted in the capital Tripoli.
He was kidnapped in an upscale district of the city on Sunday evening, according to officials in Seoul.
The authorities have struggled to secure Libya since the 2011 war that toppled Muammar Ghaddafi, with militia and armed gangs still controlling large parts of the country.
This is the second kidnapping of a foreign national in the last few days.
Mr Han Seo-Woo, who headed the Libya unit of South Korea's Trade-Investment Promotion Agency, was on his way home from work when his vehicle was ambushed in an affluent neighbourhood of Tripoli.
His driver, an Iraqi national, was left behind by the kidnappers.
There have been a spate of attacks on Westerners in the country in recent months.
On Saturday, two Italian construction workers went missing in the eastern city of Derna.
Earlier in January, the bodies of a British man and a woman from New Zealand were discovered near the coastal area of Mellitah, in the west of the country.
And in December last year, an American teacher was shot dead while out for a run in the eastern city of Benghazi.
Libyan officials could not be reached for comment.