UN reports on rights abuses in Central African Republic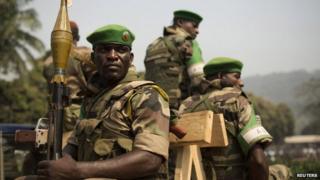 A UN investigation into the conflict in the Central African Republic has found widespread sectarian killings of civilians and sexual violence.
In December, Christian militiamen killed many Muslims, which led to reprisal attacks by Muslim fighters, the UN report says.
UN human rights chief Navi Pillay said the situation was "extremely volatile".
She warned massive violations could re-occur without further significant international invention.
More than 1,000 people have died in sectarian violence, which erupted when Seleka rebels seized power in March last year and Michel Djotodia became the country's first Muslim leader.
Although he disbanded his Seleka, they continued to attack Christian civilians around the country, prompting the formation of vigilante groups, which targeted Muslims.
Mr Djotodia stepped down last Friday under intense pressure from CAR's neighbours.
Sporadic violence has continued, despite the presence of 1,600 French troops and 4,000 African Union peacekeepers.
A meeting of the transitional national council got under way on Tuesday, and is expected to choose a new interim president by the end of the week.
Mutilation and executions
The Office of the High Commissioner for Human Rights (OHCHR) deployed a four-man team to CAR from 12 to 24 December 2013.
The investigators carried out more than 180 interviews with victims and witnesses to the violence. The report reveals a conflict that is increasingly sectarian in nature.
In early December, Christian anti-Balaka forces attacked Muslim ex-Seleka groups, killing many, while also targeting Muslim women and children.
In the reprisal attacks which followed, ex-Seleka forces killed civilian men and boys, including injured patients in hospitals.
In Christian sections of the capital Bangui, armed groups entered homes, and separated the men from the women, before executing them, the report says.
The investigators also documented several attacks on places of worship, in which anti-Balaka forces burned mosques, killing and mutilating those inside.
It is the first report on evidence collected by the UN, which is setting up a formal Commission of Inquiry to investigate human rights abuses, in a first step towards possible prosecutions.
It comes ahead of an emergency session of the UN Human Rights Council next Monday to discuss ongoing rights abuses in the country.
Hundreds of thousands of the capital's residents are said to have fled their homes.
Some 2.6 million people are in need of humanitarian assistance, the UN World Food Programme said on Tuesday.
Correspondents in Bangui say police have returned to the streets, and French and African peacekeepers are manning checkpoints all over the city.
Bangui is full of weapons and that remains a major issue, they say.
CAR has huge deposits of gold, diamonds and other minerals but has seen a succession of coups and rebellions since independence from France in 1960, leaving most of its people living in poverty.