Japan PM Shinzo Abe eyes African business ties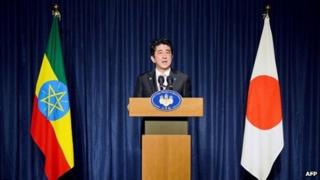 Japan should increase its business links with the fast-growing economies in Africa, "the continent that carries the hopes of the world", Prime Minister Shinzo Abe has said.
Speaking in the Ethiopian capital, Addis Ababa at the end of his first tour of the continent, he also pledged to increase aid and investment.
Mr Abe said he would increase support for peacekeeping in South Sudan.
His visit is seen as an attempt to rival China's huge influence in Africa.
Mr Abe said Japan's priorities would be the continent's young people and women.
"We will centre the axis of Japan's diplomacy toward Africa on two groups: Young people, who will without a doubt shoulder the responsibility for the future Africa, and women, who will give life to Africa's future generations."
For Africa's women, Prime Minister Abe said that he wanted to provide educational and training opportunities, and to increase school admission rates for girls.
"'Abenomics' will not succeed without 'womenomics'," the prime minister added, in a reference to economic reforms he has introduced in Japan.
As part of the deal, he pledged an aid package of $320m (£190m) for the region, including $3m (£1.8m) and humanitarian assistance to support the peace mission in the Central African Republic.
He also announced assistance worth $25m (£15m) to tackle the crisis in South Sudan, where recent fighting has left more than 1,000 people dead.
Japan currently has some 400 troops deployed to the region as part of the UN peacekeeping force.