South Sudan conflict: Safety at a price on the Nile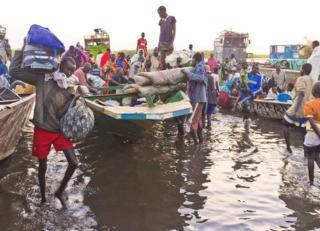 On the lush green banks of the River Nile, safety comes at a steep price.
At 6.40 in the morning, a few minutes before sunrise, two boats laden with perhaps 150 people slid on to the muddy west bank of the river and the first passengers splashed ashore.
Akuch sat waiting with her few belongings. She was not sure of her exact age. "I've got grey hair and 10 children," she told me after clambering awkwardly on to land.
But she remembered the amount of money she had to borrow to escape the fighting by crossing the river: "It was 150 pounds (£40; $66). I had to wait on the other side until someone agreed to lend it to me. Now I must find a way to pay it back. There are many people still waiting over there."
Nearby, children sat quietly on a tree trunk waiting for instructions. A group of government soldiers carried an injured colleague towards a medical tent at what has become known as Awerial camp. A blind man lay on a mattress near to another elderly man with a bullet wound in his shin.
According to several people, the fighting on the east bank, around the key town of Bor, 25km (15 miles) to the north, has intensified in recent days, with a number of civilians targeted as they tried to cross the river.
Suddenly, there was a distant roar from across the Nile - perhaps half a dozen muffled explosions. Then we spotted an unidentifiable jet high overhead, heading south, presumably after dropping its bombs.
"There is a lot of fighting," said a man called Matthew. "We'd been hiding. It's very expensive, very expensive [to cross the river]. That's why I didn't come up to now. There's no food there. The government troops have not reached the town. I think they are very far."
A five-year-old boy called Zakaria was among those killed in the past week. His 12-year-old brother Peter told me they had been hiding on an island in the middle of the Nile when a bullet hit Zakaria in the head. "We buried him in the sand just there," said Peter. "I miss him. He was a good brother. Now I have no-one to play with."
Most boats now only make the journey at night.
'I don't understand'
So far, perhaps 85,000 people have reached the west bank. They are ethnic Dinka, fleeing from their neighbours, the Nuer.
"My neighbour was a Nuer," said teacher Simon Thon, 31. "I used to drink tea with him. Then the fighting started and he came to my house with a gun and we had to run. No, I don't understand this war."
The increasingly bitter ethnic tensions in South Sudan are impossible to ignore. The word "Nuer" is spat out by many people in the makeshift camps here as a generic word referring to all those involved in a rebellion that was triggered last month by an internal political feud within the governing Sudan People's Liberation Movement (SPLM).
Local and foreign aid organisations are playing an important role at the camp here, providing medical aid and clean water to displaced families. But this is a vast country and humanitarian access remains limited.
"It's a very difficult challenge," said Oxfam's Grace Cahill. "People are very spread out. More needs to be done to reach those up and down the river who are living in the bush. They're very vulnerable and we need to be able to do more to reach those people. We call on all parties to the conflict to allow humanitarian agencies access."
Mary Nyanror, who had just crossed the Nile further south by canoe, said: "We have nothing here. When our supplies run out I fear we will die."
We found her and a few families sheltering under trees in a remote area surrounded by thick undergrowth. She said five people from their group had been killed by gunfire on the journey.