CAR crisis: Stranded foreigners to be evacuated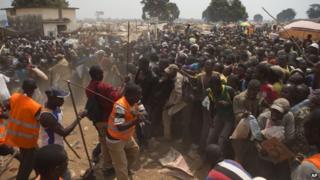 Emergency evacuations of the first of thousands of foreigners stranded in the conflict-ridden Central African Republic are due to begin on Saturday.
The International Organization for Migration (IOM) said it would start airlifting 800 Chadians from a makeshift camp in the capital, Bangui.
Some 33,000 Africans from neighbouring countries needed urgent help, it said.
CAR's interim President Michel Djotodia resigned on Friday over the fighting between Muslim and Christian militia.
Mr Djotodia, CAR's first Muslim leader, seized power last year. Since then 20% of the population have been forced to flee the violence.
At least 1,000 people have died since the clashes broke out in December.
The African Union now has some 4,000 peacekeepers in the country and France has deployed 1,600 troops to try to restore peace.
The UN earlier warned an impending humanitarian disaster.
'Terrible risks'
The IOM said it had received requests for assistance from Chad, Niger, Mali, Sudan and the Democratic Republic of the Congo to evacuate thousands of their nationals.
François Goemans, head the IOM team in Central African Republic, told the BBC the first evacuation flight was expected to take off after 18:00 local time (17:00 GMT), and would be carrying 320 mostly Chadian nationals.
They are among some 2,500 Chadians sheltering in a makeshift camp next to Bangui airport, "living in terrible conditions at the overcrowded and insanitary site", the IOM says.
Thousands of Chadians have already fled the country in recent weeks. They face violence in CAR as some accuse them of backing anti-government rebels there.
The IOM said many of those trying to return home on their own had found themselves stranded in dangerous border areas. A majority of them were women and children, it added.
"The evacuation of these migrants must be done quickly and in an orderly manner to avoid people trying to leave on their own overland and taking terrible risks, in desperation," said Carmela Godeau, IOM's West Africa director.
A total of over 60,000 migrants from neighbouring countries had asked for assistance from their embassies, she said.
Nearly 27,000 have already been evacuated by their governments, some on cargo aircraft.
Failing leadership
Mr Djotodia announced his resignation on Friday at a regional summit aimed at ending the violence in his country.
CAR's Prime Minister Nicolas Tiengaye also resigned at the meeting in Chad.
Following the announcement, thousands of people took to the streets in Bangui, most of them celebrating the news. But there were also reports of sporadic gunfire and of clashes between rival rebels.
The whole of CAR's National Transitional Council (CNT) had been flown to Chad at short notice to decide the leadership of their nation.
The lawmakers met regional leaders while Mr Djotodia held separate talks with allies from his former Seleka rebel alliance.
Seleka seized power last March overthrowing the then-President Francois Bozize, from CAR's majority Christian population.
Although Mr Djotodia has officially disbanded the Seleka rebels, he has proved unable to keep them in check.
Their actions have prompted Christians to form vigilante groups, sparking a deadly cycle of revenge attacks.
Almost a million people have been displaced in the conflict.
Many villages are deserted, and the number of those who have fled their homes has doubled in the past month - including almost half of those living in Bangui.