Kenya planes 'kill Somali militants' from al-Shabab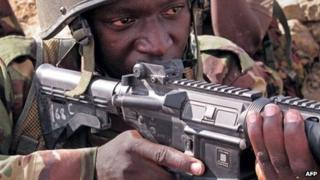 Kenya's military says it has carried out an air strike on an Islamist camp in Somalia, killing 30 militants, including al-Shabab commanders.
The strike happened in Garbarahey, near the border with Kenya and Ethiopia.
Local media reports put the number of dead at 10 and residents say there has been lots of destruction.
Kenya has several thousand troops in Somalia, helping the UN-backed government tackle al-Shabab, which is linked to al-Qaeda.
The militants said this was why it carried out the attack on the Westgate shopping centre in the Kenyan capital, Nairobi, last year, in which at least 67 people died.
On its Twitter account, the Kenyan Defence Forces said more than five vehicles and key assets had been destroyed in Thursday's raid.
It did not name the Islamist commanders it said had been killed.
On his account, military spokesman Maj Emmanuel Chirchir said the air strike missed al-Shabab leader Ahmed Godane by 30 minutes.
Al-Shabab has not yet commented on the attack.