Central African Republic crisis: Aid worker fears attack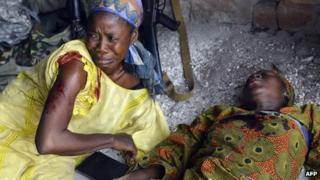 An aid worker at a Catholic mission in the Central African Republic, where some 3,000 people have sought shelter, says he fears a massive attack.
Vojtech Bily told the BBC that the town of Bozoum, north of the capital Bangui, was surrounded by Christian militia, who he feared could massacre Muslim residents.
He said the mission only had enough food supplies to last for three days.
The conflict has pitted Christian and Muslim militias against each other.
"The situation here in Bozoum is critical," Mr Bily told BBC Focus on Africa. "We are here alone since French soldiers left on 21 December."
France has deployed 1,600 troops to try to end the conflict but fighting has continued.
The African Union also has some 4,000 peacekeepers in the country.
UN Under Secretary General for political affairs Jeffrey Feltman on Monday warned that the country was on the brink of a catastrophe.
About half the people of Bangui have been driven from their homes, a total of about 513,000, he said.
'Really scared'
Mr Bily, a volunteer at the mission, said that international aid workers had been unable to get supplies into the town as attacks by Christian militia, known as anti-Balaka, had intensified.
He said he feared most of the Muslim population might be killed in a large-scale attack on the town.
"The situation is very confusing," he added. "The Muslims are really scared. We are afraid anti-Balaka will organise one huge, massive attack on Bozoum."
Muslim rebel leader Michel Djotodia seized power last March, forcing President Francois Bozize, who came from the majority Christian population, to flee into exile.
The UN says 2.2 million people are in need of humanitarian assistance.
The UN's refugee agency has warned the delivery of aid relief was being severely limited by attacks on civilians, looting and the presence of armed militia at refugee camps.
Earlier this week, the UN warned the violence had sunk "to a vicious new low" as children were mutilated and beheaded in revenge attacks.