South Sudan: UN concerned by 'wildcard' White Army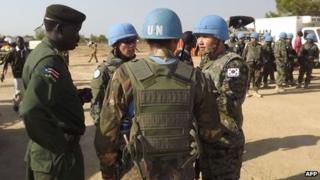 The UN has expressed concern about thousands of South Sudanese youths - loyal to rebel leader Riek Machar - approaching the strategic town of Bor.
Armed with machetes and sticks, the "wildcard" group does not have military training, a UN spokesman told the BBC.
However, the government information minister later said local negotiators had succeeded in persuading the group to disband.
At least 1,000 people have died in South Sudan since fighting began.
More than 121,600 are believed to have fled their homes in the conflict, which started on 15 December.
Tens of thousands of civilians have sought refuge in UN camps and reinforcements have been arriving to give them extra protection.
The government has offered a ceasefire, but the army says its forces are still battling over oilfields in the north.
What began as a power struggle between Mr Machar and President Salva Kiir has taken on ethnic overtones. The Dinka, to which Mr Kiir belongs, are pitted against the Nuer, from which Mr Machar hails.
'Volatile'
Government troops are currently in control of Bor, the capital of Jonglei state they had taken from the rebels.
The group thought to have been marching on the town are part of an ethnic Nuer militia known as the White Army because of the white ash they put on their skin to protect them from insects.
A UN surveillance flight had located them 50 km north-east of Bor, the UN spokesman, Joe Contreras, added.
The White Army seems sympathetic to Mr Machar, but does not appear to be acting on his direct orders, said Mr Contreras, a spokesman for the UN Mission in South Sudan.
He described the group as "a volatile and unpredictable ingredient" to the unrest in South Sudan.
However, a spokesman for the rebels, quoted by the AFP news agency, denied Mr Machar was "mobilising his tribe" and said they were regular soldiers who had rejected the government.
Mr Machar was deputy president until Mr Kiir sacked him in July.
Fighting broke out two weeks ago between rival army factions after Mr Kiir accused Mr Machar of trying to unseat him in a coup.
Mr Machar said on Friday his forces were in control of the whole of the states of Jonglei and Unity, apart from Bor.
Allegations that he was mobilising forces to march on Bor cast a shadow over peace efforts led by regional leaders.
On Friday, Mr Machar said he had a negotiating team ready but any ceasefire had to be credible, properly monitored and preceded by the release of 11 detainees accused of being co-conspirators in the coup plan.
Mr Kiir has refused to accept any preconditions for a ceasefire.