Libya 'releases' four US military personnel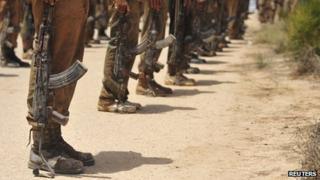 Libyan authorities have freed four US military personnel briefly detained on Friday, US officials have said.
The US citizens were reportedly arrested near the city of Sabratha, west of the Libyan capital, Tripoli.
Images purporting to show two of the Americans' passports and embassy ID cards were posted on social media.
The head of Sabratha's military council said the US military staff were travelling in two SUVs when they were stopped at a checkpoint.
The State Department announced on Friday evening that the four had been detained while reviewing evacuation routes for embassy staff.
But little more than an hour later unnamed US officials said they had been released. The reasons for their detention remain unclear.
The Americans were allegedly armed and carried communications equipment.
One of their cars was said to have been set on fire afterwards.
US diplomats have operated in the country under very tight security since last year's attack on the US consulate in the city of Benghazi, in which US ambassador Christopher Stevens and three other Americans were killed.
The security situation in and around Benghazi has been worsening in recent months, with militants blamed for almost daily attacks.
Last week, seven people were killed at a security checkpoint near Benghazi in the first known suicide bomb attack in Libya since the fall of Col Gaddafi two years ago.