Nigerian military 'kills Bama attackers'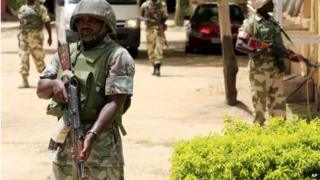 At least 70 people are said to have died when Nigerian forces attacked those behind a raid on a barracks.
Fifty insurgents, 15 soldiers and five civilians died in the clashes as those who raided the barracks in Bama sought to flee to Cameroon, officials said.
Some 1,200 people have been killed since May, when a state of emergency was declared in the three states worst affected by attacks by Boko Haram.
The group wants to establish Islamic law in the region.
More than 20 vehicles carrying insurgents were destroyed during the latest clash, according to the statement from Maj-Gen Chris Olukolade.
He said air surveillance was used to track down those who attacked the barracks last week.
There has been no independent confirmation of the casualty figures and Boko Haram has not commented on Friday's raid on Bama.
The army used fighter jets during a fierce battle lasting several hours on Friday.
Several witnesses said that the families of soldiers were abducted during the attack, but this was denied by Gen Olukolade.
Residents said that women and children were among those killed in Bama barracks.