AU troops 'kill' CAR protester in Bangui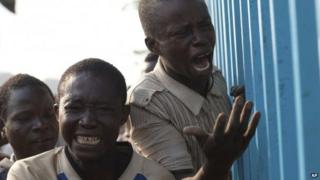 African Union (AU) troops have opened fire on protesters in the Central African Republic (CAR), killing one person, witnesses said.
About 40 people were also wounded, mostly in a stampede, caused by the shooting near the airport in the capital, Bangui, a charity said.
On Sunday, French forces killed three people, the CAR government said.
AU and French troops are battling to end Christian-Muslim conflict that has engulfed CAR.
Militias from the two groups have been involved in attacks and counter-attacks since Michel Djotodia installed himself as the country's first Muslim ruler in March, ousting then-President Francois Bozize, who came from the majority Christian population.
Two days of violence earlier this month left about 1,000 people dead, according to Amnesty International.
'No to France'
The AU has nearly 4,000 troops in CAR, including a contingent from neighbouring Chad, and France, the former colonial power, has deployed 1,600 soldiers to help restore order.
Many Christians accuse the Chadian government of being allied to the Seleka rebel group which propelled Mr Djotodia to power, while Muslims allege that French forces are siding with Christian militia groups known as anti-balaka.
Witnesses said a Christian crowd staged the protest on Monday, demanding the resignation of Mr Djotodia and the withdrawal of Chadian troops from the AU force.
"No Chadians in Bangui!" sections of the crowd chanted, Reuters news agency reports.
The Chadian forces fired into the air and towards the crowd after protesters threw rocks at their vehicles, the AFP news agency quotes its reporters at the scene as saying.
One person was killed, according to AFP and Reuters.
A spokesman for the medical charity Medecins Sans Frontieres (MSF) said around 40 people had been treated for injuries at their airport medical centre.
Three people with bullet wounds were in a critical condition, MSF's Sylvain Groulx told the BBC's Focus on Africa radio programme.
On Sunday, several thousand Muslims protested in Bangui against the presence of French troops, chanting: "No to France".
'Nazi slogan'
The French army said it had opened fire on suspected ex-Seleka fighters who were "preparing to use their weapons".
It did not give casualty figures, but Mr Djotodia's spokesman Guy Simplice Kodegue said the French troops had shot dead three presidential guards - not ex-Seleka rebels.
"They were killed in cold blood by members of Sangaris," he told AFP, using the codename of the French force.
On Sunday, the French army said it had launched an investigation after one of its soldiers in CAR was pictured with a Nazi slogan on his uniform.
"This is an unacceptable attitude that doesn't reflect the reality of the armed forces," army spokesman Col Gilles Jaron said.