Somalia to rebuild national library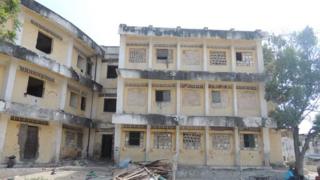 A project has been launched in the Somali capital, Mogadishu, to rebuild the country's national library.
Dozens of displaced families had been sheltering inside the building which has been badly damaged by decades of conflict.
The project director, Zainab Hassan, told the BBC that thousands of students currently had no access to books.
Work on the new complex is expected to be finished in six months' time at a cost of $1m (£600,000).
The money is coming from the Somali government as well as business people and civil society.
Already 20,000 books have been donated from the United States and around 60,000 are expected to come from Arab nations.
Ms Hassan said she hopes the library will teach people to love reading.
She admitted that a large proportion of Somalia's culture and history is oral and has not been documented.
"The building should restore Somalia's history for future generations," she said, adding that there was a need for knowledge among Somalis.
Al-Shabab militants have been driven out of Somalia's major towns, such as Mogadishu and the port of Kismayo, by a UN-mandated African Union force of some 18,000 soldiers.
Since then, many Somalis living in the diaspora have returned to help in the reconstruction of Mogadishu.
However the militants have carried out intermittent attacks and suicide bombings on the capital in recent months and still control large parts of southern Somalia.