Tanzania police raid FGM ceremony in Same district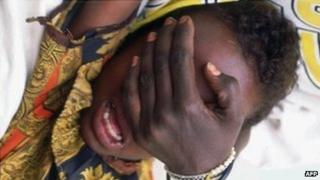 Police in northern Tanzania have broken up an illegal ceremony where girls were subjected to female genital mutilation (FGM), an official has told the BBC.
Police rounded up 38 people, including seven cutters, 21 girls and parents, Herman Kapufi said.
Some of them are due to appear in court on Wednesday, he added.
In 1998, Tanzania banned FGM, which typically involves removing the clitoris and can lead to bleeding, infections and childbirth problems.
The procedure is often performed with unsterilised razor blades or knives and without anaesthetic.
'Fresh wounds'
In some communities, FGM is seen as a traditional rite of passage and is used culturally to ensure virginity and to ensure a woman can get married.
However, FGM ceremonies are rare in north-western Tanzania's remote Same district, where the raid took place, reports the BBC's Tulanana Bohela from the main city, Dar es Salaam.
Mr Kapufi, the Same district commissioner, told the BBC that policemen swooped on a village after neighbours reported their suspicions about a dance ritual.
Police rounded up everybody at the ceremony, including the 21 girls who were aged between three and 17 years, he said.
Four of the girls were still bleeding and were taken to hospital for treatment, Mr Kapufi added.
A medical examination of some of the other girls showed that their wounds were healing, suggesting that they had been cut several days earlier, he said.
Such ceremonies usually last for between three and seven days, our reporter says.
Police were still conducting investigations before deciding who to take to court on Wednesday on charges of taking part in an illegal ceremony, Mr Kapufi said.
FGM has been in decline across Tanzania since the government outlawed it and because of public awareness campaigns run by rights groups, our correspondent says.
But it is common in some rural parts of the country, including in the central Dodoma region and amongst Maasai communities in the north-west, she adds.
Campaigners say women are often pressurised to be circumcised, fearing that they might otherwise be excluded or turned down for marriage.
They say FGM ceremonies are often disguised as naming or baptism ceremonies.
Last year, the United Nations' General Assembly unanimously passed a non-binding resolution banning female genital mutilation, citing women's rights and the dangers to women's health.
The UN says that globally, three million girls are at risk of being circumcised every year, but the practice is in decline in many African countries.