Nigeria Boko Haram emergency: 'More than 1,200 killed'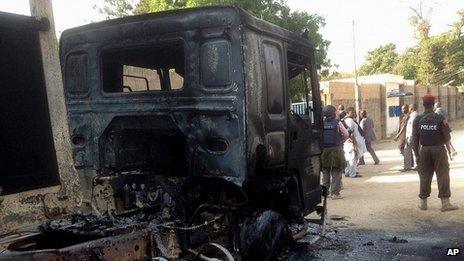 The UN says more than 1,200 people have been killed in Islamist-related violence in north-east Nigeria since a state of emergency was declared in May.
The UN said the figure related to killings of civilians and the military by the Islamist group Boko Haram in the states of Adamawa, Borno and Yobe.
It also includes insurgents killed by security forces repelling attacks.
This is the first time independent casualty figures have been issued since emergency rule was declared.
Thousands of people have been killed since 2009, when Boko Haram launched its campaign to install strict Islamic law in northern Nigeria.
The figures, released on Monday, do not include those killed during military operations, a spokesman for the UN Office for the Co-ordination of Humanitarian Affairs (Ocha) told the AFP news agency.
"The humanitarian situation in north-east Nigeria has been increasingly worrisome over the course of 2013," the UN said.
There have been 48 separate "Boko Haram-related" attacks in the region since emergency rule was declared, its statement added.
"Information on the situation is scarce", with figures of those displaced by the conflict and those who have fled to neighbouring states "hard to gauge", Ocha said.
In May, a state of emergency was declared in Borno state, of which Maiduguri is the capital, as well as Adamawa and Yobe, while there has been a massive military deployment to the worst-affected areas.
Attacks by Boko Haram are continuing despite the big military offensive.
The military initially switched off the mobile network across the region, apparently to block Islamists from co-ordinating attacks.
Boko Haram was founded in Maiduguri in 2002 and the city was also the scene of its first uprising in 2009.