Rwanda ex-mayor Ndahimana's genocide jail term raised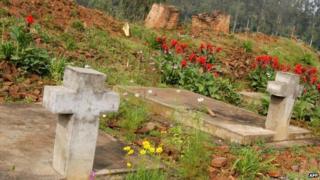 A Rwandan ex-mayor found guilty of genocide by a UN-back war crimes tribunal in 2011 has had his sentence extended from 15 to 25 years on appeal.
Gregoire Ndahimana was found guilty of failing to intervene when police under his command in Kivumu attacked a church where ethnic Tutsis were sheltering.
Both he and the prosecution appealed.
The appeal judges raised the sentence, saying he as not just an "aider and abettor" in the massacre but was also involved in its planning.
Some 800,000 Tutsis and moderate Hutus were killed in 100 days in 1994.
'Drank beer'
When the sentence was read out at the International Criminal Tribunal for Rwanda (ICTR) in the Tanzanian town of Arusha, the former mayor collapsed into a chair and his wife wept in the public gallery, the AFP news agency reports.
More than 2,000 Tutsi were sheltering in the Nyange Catholic church in Kivumu when it was bulldozed on 16 April 1994.
Both Ndahimana and the prosecution had appealed against the 2011 verdict, which found him guilty of "genocide and extermination as a crime against humanity".
But prosecutors argued that Ndahimana had celebrated the bulldozing of the church by drinking beer with other local officials, showing he was more involved in the killings.
"The Appeals Chamber considered that the elevation of Mr Ndahimana's criminal responsibility from that of an aider and abettor to that of a participant in a joint criminal enterprise resulted in an increase of his overall culpability which called for a higher sentence," the ICTR statement said.
After the 1994 killing spree, some of those responsible fled across the border to the Democratic Republic of Congo, sparking years of unrest in the region.
Ndahimana was arrested in August 2009 during operations against Rwandan rebels in eastern DR Congo.