Mandela lies in state: South Africans queue to see 'Madiba'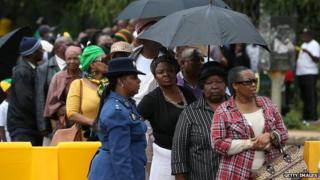 Thousands of South Africans have queued for a second day to pay their respects to former President Nelson Mandela.
The body of the anti-apartheid leader is lying in state at the Union Buildings in Pretoria, where Mr Mandela was sworn in as South Africa's first black president in 1994.
Thursday's viewing was for the general public - many who queued up were turned away, as numbers were too great.
Mr Mandela will be buried at his ancestral home in Qunu on Sunday.
His widow Graca Machel and President Jacob Zuma were among those to pay their respects on Wednesday. World leaders and celebrities also came to say goodbye to Mr Mandela, who died last Thursday at the age of 95.
On Friday the body will lie in state for a third day.
According to the government, between 12,000 and 14,000 people were able to view the open casket on Wednesday, but many did not make it to the front of the queue before public viewing ended.
Huge queues again formed on Thursday, many trying for a second day to board the buses taking them to the viewing site, but the gates were again closed before all those waiting were admitted.
"We are very disappointed that they cut the queue, but otherwise we are ok with it," one woman, who had been queuing since the early morning, told Reuters.
"We are doing it for Tata," she said, using the Zulu word for father. "He had a lot of humility. He was very patient so we can't do otherwise but to honour him and continue his legacy of humility."
The government said in a statement that it "appreciates the overwhelming response from the public to pay homage to Tata Madiba".
"However, it is a reality that there are limits on the number of hours for which the remains of the president can be viewed."
Correspondents who have visited the coffin said Mr Mandela's body could seen through a glass screen, dressed in one of his trademark patterned shirts.
At each end of the casket stood two navy officers clad in white uniforms, with their swords pointing down.
Some mourners stopped briefly to pray, while a number of people reportedly fainted.
Family 'humbled'
In a statement, the Mandela family said the proceedings were a "fitting tribute".
"As he lies in peace at the Union Buildings, Madiba would be happy to know he is surrounded by thousands of South Africans, whom he loved and served - or served with - in the prosecution of the just struggle for democracy, and in laying the foundations in 1994 for a non-racial, non-sexist, democratic South Africa," they said.
"We are humbled that millions of South Africans who loved him, stood by him through his trials and tribulations, supported him... can now join us in bidding him farewell."
The South African government has said there are no plans to release official photographs of Mr Mandela lying in state, respecting the family's wishes.
Those paying their respects have been asked not to bring cameras and to turn off their mobile phones.
The government has also urged people to ignore a faked image being circulated online purporting to show the late leader's body.
World leaders joined tens of thousands of South Africans at a huge memorial service on Tuesday in Johannesburg as part of the commemorations leading up to the funeral.
After Mr Mandela's body has lain in state for three days, it will be flown to the rural area of the Eastern Cape where the former president grew up.
A military guard of honour will welcome the arrival, and the coffin will be placed on a gun carriage and transported to a hearse.
Mr Mandela's body will then be taken to his home village of Qunu, where the Thembu community will conduct a traditional ceremony.
A national day of reconciliation will take place on 16 December when a statue of Mr Mandela will be unveiled at the Union Buildings.