DR Congo's UN forces attack Rwanda's FDLR rebels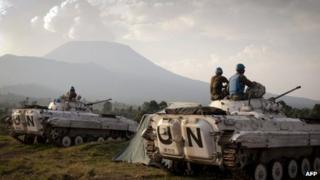 UN forces have launched an offensive against a Rwandan rebel group in eastern Democratic Republic of Congo in a new move to end regional instability.
The FDLR was the next target following the defeat of M23 rebels and a key road had already been recaptured, the UN's force commander Gen Carlos Alberto dos Santos Cruz told the BBC.
Neighbouring Rwanda views the FDLR as major threat to its stability.
The group is accused of involvement in the 1994 genocide in Rwanda.
Some 800,000 people, mostly from the Tutsi ethnic group, were killed in the conflict.
'Spread out'
Rwanda invaded resource-rich eastern DR Congo in 2003 under the pretext of fighting the FDLR, which is made up of the rival Hutu ethnic group.
The UN has more than 19,000 troops in DR Congo, with an attack force given the mandate of neutralising armed groups.
Gen Dos Santos Cruz told the BBC that 200 UN troops and an attack helicopter supported government troops in a two-day operation against the FDLR.
There was hardly any fighting, as FDLR fighters fled their positions, he said.
The government had regained control of the road between the towns of Kitchanga and Pinga, Gen Dos Santos Cruz said.
"It was very important to open the way to Pinga because for almost two years the population was almost isolated because of the presence of FDLR and some more associated groups along the road," he added.
UN officials estimate there are about 1,500 FDLR fighters spread out in small groups across eastern DR Congo's North and South Kivu provinces, an area the size of England.
The group has not carried out any major cross-border raid into Rwanda in recent years, correspondents say.
The FDLR was formed by Hutu militiamen who retreated to DR Congo when the genocide ended with the seizure of power by the Rwandan Patriotic Front led by Paul Kagame, who is now president.
Since 2011, Mr Kagame has repeatedly been accused of backing the M23 to counter the FDLR - an allegation he denies.
UN and DR Congo government forces defeated the M23 last month.
Most M23 fighters come from the same Tutsi ethnic group as Mr Kagame.
DR Congo has been hit by more than two decades of instability.