French forces kill suspected Islamists in Mali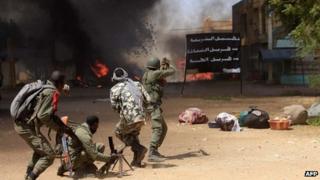 The French army has confirmed that it killed 19 people in a clash with suspected Islamists in Mali.
A spokesman for the operation said the dead men had been buried in the desert after a gun battle north of Timbuktu.
He added that there had been no French casualties.
France still has up to 3,000 soldiers in Mali, after intervening in January to oust Islamist and secessionist rebels who had occupied the north of the country.
The United Nations Minusma force has also deployed more than 6,000 soldiers and police in the country.
Despite some success, pockets of al Qaeda-linked fighters still remain.
Ongoing operation
''The clash happened during an ongoing operation that began last week,'' Hubert de Quievrecourt, the spokesman for French operations in Mali, told the BBC.
He denied reports that the 19 corpses had been left in the sun and spotted by nomads.
''Those bodies would not be from our clash. We always bury our corpses where they died,'' he told the BBC.
Islamist groups have stepped up their operations in Mali in recent months, attacking UN peacekeepers and killing two French journalists in the northern town of Kidal.