Letter from Africa: Lost for words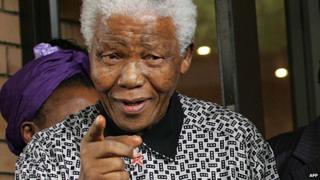 In our series of letters from African journalists, London-based Ugandan writer Joel Kibazo remembers how Nelson Mandela left people tongue-tied.
As a child my first passport had the words: "permission to travel to all countries except South Africa", which intrigued me.
At the tender age of 13, this was my first encounter with this thing called "apartheid".
A year later, at a Miriam Makeba concert in my home city of Kampala, I first heard the name of Nelson Mandela when it was uttered from the stage.
It was to have a lifelong fascination with the man and everything he stood for and it has been at the core of almost everything I have done in journalism, diplomacy and as an analyst.
It is difficult to add to the tributes that have been paid by greater voices than mine, or indeed by the people of South Africa.
Tell me, who has not been touched by Mandela in some way?
As students we marched and campaigned for his freedom and spoke out against his incarceration.
Such was the passion of the time that even after his release, my then girlfriend and I nearly parted over the issue of my going to report from South Africa before he had become president.
The personal had become political and navigating this delicate personal crisis gave me my first insights into diplomacy and negotiation.
I had the good fortune to meet the great man quite a number of times and for me it is those memories that will not only remain with me forever and which said so much about the man he really was.
Dejected
Covering the summit with African leaders in Cape Town in 1994, word went out that President Mandela would not be giving any interviews that day.
I felt dejected as I had come all the way from London for that purpose.
As I worried about what to tell my editor, I suggested the crew grab some lunch while I sat on a patch of grass at the back of the Mount Nelson Hotel to come up with a solution.
No-one else was around, so imagine my horror and delight when the door swung open and there before me was Nelson Mandela.
I stood up and he stopped to speak to me.
Yet at that very moment my mind went blank.
I had rehearsed this moment so many times yet here I was, my icon before me, and I was dumb struck.
He saw my predicament and was generous.
He uttered some words of encouragement, agreed to me taking close-up photographs and then asked: "Can I please be excused as I have to go to another meeting?"
Nelson Mandela was asking me if he could be excused? Imagine that.
For weeks I was embarrassed about going blank and there was much laughter from friends and colleagues, and from that girlfriend. Oh, I was sore.
'Forgot her name'
Luckily I got several opportunities to meet the great man over the following decade and somehow I always managed to sneak in one of those questions I missed the first time around.
I got my own back on at least one person who laughed at me about my first encounter.
A decade later, the girlfriend was now my wife and her dream was to meet Mr Mandela.
With the help of friends it was arranged as a surprise anniversary present.
For someone who always has a lot to say, she too was overwhelmed.
When he spoke to her she not only forgot her name but those of her children too… his presence could have that sort of effect.
A few weeks ago things came full circle for me as I finally made it to Robben Island, the prison where Mr Mandela and other freedom fighters spent many years.
For all my visits and stays in South Africa, I had never wanted to confront what I saw as the physical symbol of apartheid.
A cold feeling came over me as I took in what it must have been like to be a prisoner in those cells - to have endured all this for simply asking for freedom.
This is why that stamp had been put in my first passport.
Yet from this emerged a man without bitterness or rancour and full of forgiveness.
Go well Nelson Mandela, go well.