Mandela death: South Africa parliament to pay tribute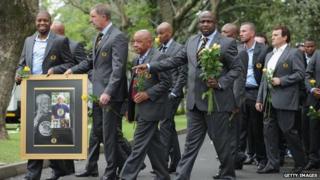 South Africa's parliament is to meet to pay tribute to Nelson Mandela, as world leaders prepare for Tuesday's national memorial service.
The sitting comes at the start of a week of commemorative events before a state funeral on 15 December.
More than 100 current or former heads of state or government are to attend either the memorial or the funeral.
On Sunday, millions took part in a "day of prayer" to remember the country's first black president.
Monday's parliament sitting will be a special session.
Mr Mandela's former wife Winnie Madikizela-Mandela and grandson Mandla are both MPs of the African National Congress but it is unclear whether they will attend.
ANC spokesman Moloto Mothapo said: "We hope some members of the Mandela family will be there."
FW de Klerk, South Africa's last white president, who shared the 1993 Nobel Peace Prize with Mr Mandela, has been invited.
World leaders
Over the next eight days, a series of events will commemorate the man who steered their country out of white-minority rule.
The foreign ministry has confirmed that 91 current heads of state or government have confirmed they are coming to South Africa, along with "10 former heads of state, 86 heads of delegations and 75 eminent persons".
US President Barack Obama, Francois Hollande of France and UK PM David Cameron will be among those attending Tuesday's memorial at a Soweto stadium.
On Saturday, Cuban state media announced that President Raul Castro would be one of those attending Mr Mandela's funeral.
Under Mr Castro's brother Fidel, Cuba was a staunch critic of apartheid, and Mr Mandela had expressed gratitude for his support.
Tuesday's memorial service is likely to be one of the biggest such gatherings of international dignitaries in recent years.
Among those on the list are UN Secretary General Ban Ki-moon, German President Joachim Gauck, EU Commission President Jose Manuel Barroso, Dutch King Willem-Alexander and Crown Prince Felipe of Spain.
World leaders, global figures and celebrities will join 95,000 ordinary South Africans at the memorial service at FNB stadium in Soweto, where Nelson Mandela made his final major public appearance during the 2010 football World Cup.
Three former US presidents, George W Bush, Bill Clinton and Jimmy Carter, will join President Obama and First Lady Michelle Obama.
Brazil's President Dilma Rousseff, Palestinian leader Mahmoud Abbas and India's President Pranab Mukherjee will also be coming.
Leading celebrities in the anti-apartheid movement Peter Gabriel and Bono are also expected to attend as are former international leaders such as Martti Ahtisaari who, along with Mr Mandela, were part of a group known as The Elders, promoting peace and human rights.
Mr Mandela's body will lie in state in Pretoria on the following three days and he will be given a state funeral on Sunday, 15 December.
A smaller number of international dignitaries including the Prince of Wales will attend the burial in the Eastern Cape village of Qunu, where the late president grew up.
While Tuesday's memorial service will clearly be a big organisational challenge, the state funeral will be a greater logistical one because of its rural remoteness, BBC correspondent Mike Woodridge reports.
'Light in the darkness'
On Sunday South Africa held a "day of prayer" in Mr Mandela's memory.
At Soweto's Regina Mundi Catholic Church, a centre of the anti-apartheid struggle, the priest Sebastian Roussouw said the late leader had been "a light in the darkness".
Winnie Madikizela-Mandela was among the congregation at the Bryanston Methodist church in Johannesburg, where President Jacob Zuma urged South Africans not to forget the values he had stood for.
Mourners have gathered every day outside Mr Mandela's house in the Johannesburg suburb of Houghton since Mr Mandela died at home on Thursday at the age of 95, after several months of ill health.
Well wishers have lit candles there and laid thousands of wreaths of flowers and at his old home in Soweto.
The government has given further details of the state funeral arrangements for this week:
Tuesday, 10 December is the day for South Africa's official memorial service at the FNB Stadium in Soweto, and will be addressed by President Zuma with tributes from other heads of state
The memorial service will be shown on big screens at three "overflow" stadiums - Orlando, Dobsonville and Rand
Between 11-13 December, "selected international visitors and guests" will be able to view Mr Mandela's remains at the Union Buildings in Pretoria.
The public will be able to view the body from 12:00 to 17:30 on Wednesday and from 08:00 to 17:30 on Thursday and Friday
Each morning his body will be taken from the mortuary to the city hall through the streets of Pretoria. Members of the public have been encouraged to line the route and form a "guard of honour".
His body will be transported on Saturday, 14 December, from Waterkloof Air Force Base in Pretoria to the Eastern Cape, with a procession from the airport at Mthatha to his home village of Qunu where a traditional ceremony will be held.
A national day of reconciliation will take place on 16 December when a statue of Mr Mandela will be unveiled at the Union Buildings in Pretoria
Some 90 screens will be set up across the country to show all planned national events
Flags at all official buildings are to remain at half mast throughout the period and books of condolence are being circulated across the country and online for people to post tributes, record memories and express their emotions.
A government statement recalled the former president's own thoughts when asked how he wished to be remembered.
"It would be very egotistical of me to say how I would like to be remembered," Mr Mandela said.
"I'd leave that entirely to South Africans. I would just like a simple stone on which is written, 'Mandela'."
The former South African leader spent 27 years in jail before becoming the country's first black president in 1994.
He served a single term before stepping down in 1999.