France begins to disarm Central African Republic militias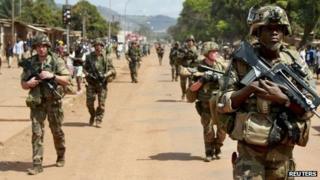 French soldiers have started to remove weapons from fighters in the Central African Republic (CAR).
There was a brief exchange of gunfire between armed men and French soldiers near the airport in the capital, Bangui, as the disarmament began.
A 1,600-strong French force has been sent into the CAR, deployed after days of communal fighting claimed 400 lives.
The CAR has been in turmoil since March when an alliance of rebels, known as Seleka, seized power.
The alliance has since been disbanded and rebel leader Michel Djotodia is now president.
'End to impunity'
France's Defence Minister Jean-Yves Le Drian said fighters loyal to interim President Djotodia had to return to barracks and the rest would have to surrender their weapons.
"First we'll ask gently and if they don't react, we'll do it by force. The operation will take some time," he told French media as French troops began patrolling the streets of Bangui.
"The period of impunity is at an end," he said.
The French were sent into the CAR on Friday after the UN Security Council backed a mandate to restore order "by all necessary measures" the previous evening.
On Monday, the US Department of Defense said it would help fly Burundian troops into the CAR to join an African-led peacekeeping force.
The UN resolution followed a surge of violence involving Christian self-defence militias that had sprung up after a series of attacks by mainly Muslim fighters from the disbanded Seleka rebel forces.
The Red Cross says 394 people were killed in three days of fighting in Bangui.
Bodies were still being recovered from the streets of the capital on Sunday. A Reuters correspondent described seeing bodies piled up in the local hospital's mortuary and its corridors.
While French troops were visible on the main streets of the capital, French TV showed footage of former Seleka militiamen still in control of other areas of the city.
Reporters in Bangui described the atmosphere as tense.
Thousands of Christians have sought shelter at Bangui airport, now under French guard, out of terror of the Muslim militiamen, Britain's Channel Four TV reports. Thousands have also fled to churches and a monastery.
It was near the airport that there was gunfire on Monday morning.
"The Seleka [ex-rebels] didn't want to disarm. There was a brief exchange of fire, and they ran away," Celestin Christ Leon, a spokesperson for the regional African force based at the airport, told Reuters news agency.
Meanwhile, distressing stories have begun to emerge of the violence that has befallen the country in recent days.
Relief agencies told Associated Press that ex-Seleka fighters had dragged nine wounded young men they believed to be part of a Christian militia out of a Bangui hospital and killed them.
The Red Cross says bodies are still being found and many of the victims have been children, according to the UN's children agency.
One distraught young girl screamed that her parents had been killed. "We've become orphans. Why? They killed my father. He didn't do anything wrong."
The bloodshed has not been confined to the capital.
'Not my men'
The BBC's Thomas Fessy, in the northern town of Bossangoa, has described how a number of people were killed when a Christian militia attacked the house of an imam, in a Muslim quarter, where dozens of people had sought shelter.
The attackers chased people down, he says, and bloodstains are still visible.
People's homes in the town are deserted. Some 40,000 Christians have sought refuge around a church. About 7,000 Muslims are stranded at a school located on the other side of the town.
Mr Djotodia has said he cannot do anything to bring to order fighters who did not join the army when he took power.
"I'm in control of my own men. Those I don't control are not my men," he said.
France said on Saturday that the African Union would increase the size of its existing force of 2,500 peacekeepers to 6,000.
UN Secretary General Ban Ki-moon said that as many as 9,000 peacekeepers would be required to move into the CAR, and he hoped they would eventually become a United Nations operation.
An estimated 10% of CAR's 4.6 million people have fled their homes, while more than a million urgently need food aid, according to the UN.