Letter from Africa: In fear of child-snatchers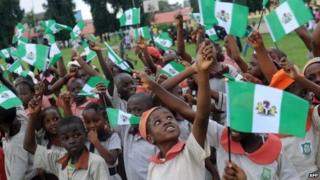 In our series of letters from African journalists, Adaobi Tricia Nwaubani considers the issue of child protection in Nigeria as the authorities in the east of the country crack down on "baby factories".
Over the past few weeks, I have been engaged in an educational project with a community on the outskirts of Nigeria's capital, Abuja.
Although just 25 minutes' drive away from Apo, where Nigeria's lawmakers have their official residences, the road to Zhiyidna is barely passable, the entire community has no electricity, and none of the 100 to 150 keen children with whom I interact every week have ever set foot outside their village.
I was taken aback when one of the community leaders called me aside during one of my recent visits.
He explained that the parents were worried because I had been giving the children snacks.
They were suspicious that I may have mixed some sort of juju, or magic potion, into the food - perhaps to steal the children's destinies as they ate, thereby increasing my own chances of success in this world, or for some other unknown diabolical purpose.
According to him, they had heard that "someone like you" had turned up at another village under the guise of a developmental project, served the young people snacks in the process, only for all the children in the village to drop dead as soon as the philanthropist left.
Listening to him reminded me of a story my friend's father told, of when Prince Charles was born in 1948.
'Voodoo ploy'
To celebrate the birth of the future king of England, the British colonial administrators in my friend's father's community in south-eastern Nigeria decided to give all the children in their school free milk.
Before long, pandemonium broke out all over the community: Mothers rushed from the markets; fathers rushed from the farms.
All headed to rescue their children from the school.
They had heard that the British had come up with a grand plan to poison every single Igbo child that day - by giving them something to drink.
Even more recently, in 2011, when the governor of the south-eastern Imo state decided to offer each child 100 naira ($0.65, £0.40) to encourage them to attend school, the rumour circulated that the monthly stipend was simply a voodoo ploy by governor Rochas Okorocha to siphon the children's destinies.
Nevertheless, I could not dismiss the Zhiyidna parents' concerns as mere superstition or alarmism.
They may not have degree certificates or speak fluent English, but they know that children are a highly sought after commodity in today's Nigeria.
One cannot be too careful.
Pregnant teenagers
Last month, Imo's government revoked the licences of all homes for motherless babies, orphanages and foster homes in the state.
This followed the discovery of a number of "baby factories" in the state over the past few months.
In one case, 17 pregnant teenagers and 11 babies were rescued.
All the girls said they had been impregnated by the same man.
Babies "manufactured" under such circumstances can be used for a variety of purposes: From illegal adoption to child trafficking, or their body parts harvested for rituals.
Local newspapers sometimes report the discovery of corpses of children abandoned in bushes or highways with their vital organs missing.
Fresh placentas and aborted foetuses are also known to be up for sale.
The Imo state government has taken a step in the right direction.
Nigeria's children definitely need more protection.
Every children's home in the state will now be expected to go through a rigorous process of accreditation that will, hopefully, expose the wolves in sheep's clothing.
Thankfully, I passed my own brief accreditation process. And so, I am allowed to continue feeding the children in Zhiyidna.
I was able to convince the community leader during our long chat that, even though there are all sorts of wicked people perpetrating all manner of evil around Nigeria, I am not one of them.
If you would like to comment on Adaobi Tricia Nwaubani's column, please do so below.