South Africa outrage at rape scene school exam question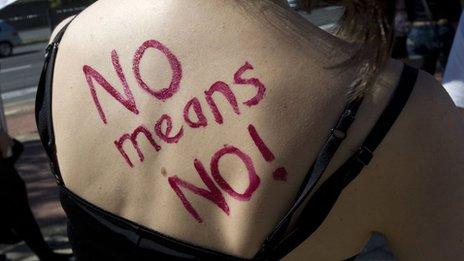 South Africans have been outraged by a question in the national school-leavers' drama exam which asked students to direct a rape scene.
They were asked to describe how they would get an actor to maximise the horror of the rape of a baby, using a broomstick and loaf of bread as props.
Anti-rape activists and the author of the play, Lara Foot Newton, have said the question was "insensitive".
South Africa has one of the highest rates of sexual violence in the world.
Ms Foot Newton's award-winning play Baby Tshepang is based on the actual rape of a nine-month old by her mother's boyfriend.
South Africa's Education Department has defended the question's inclusion in the paper, sat by students on Monday.
"Nowhere is it expected of the candidate to have to literally describe the actual act of raping a nine-month-old baby," it said in a statement.
It was aimed at assessing the pupils' concept of using metaphor as a theatrical technique, it said.
But some students were disturbed by the question.
"Everyone was in shock that we were asked such a question. It was so gruesome and we were not sure how to answer it," South Africa' Times newspaper quotes a Durban pupil as saying.
The local Witness newspaper reports that many student it interviewed were too embarrassed to repeat what they had written in their answers.
"While drama is all encompassing, we never expected such a question or topic. This is sickening to say the least," one pupil, who spoke on condition of anonymity, told the paper.
"How does a 17-year-old describe the rape of a baby? We have been forced to imagine the unimaginable."
Another pupil said one of her friends was most upset as she had a younger sister who had been sexually abused.
Rape trauma counsellor, Michelle Smith, agreed it was "incredibly insensitive to the thousands of children who are being sexually abused daily".
"You cannot put something like this in an exam paper and call it raising awareness," the Witness quoted her as saying.
Ms Foot Newton told South Africa's ENCA TV that the questions was "insensitive to the play".
"I think it's [also] inappropriate for a drama student to have to answer that kind of question at that level," she said.
Eureka Olivier, from the child rights advocacy group Bobbi Bear, said she was "absolutely disgusted".
"What are we teaching our children by having such a question in an exam paper?" she told the Witness.
The internal moderators for the exam paper said it was a "valid and fair" question.
"The rape of babies is a relevant societal issue. In technical terms it is also asking the learner to present how the horror of the act can be conveyed, theatrically, to an audience," the moderators said in a statement.
"This is not to create hysteria, but to sensitise an audience to the horror and, at best, to have them walk out of the theatre determined to prevent such horrific and brutal acts from being perpetrated."
More than 60,000 people are raped each year in South Africa and experts say most rapes happen in poor communities, carried out by people known to the victim.
Related Internet Links
The BBC is not responsible for the content of external sites.