Egypt prosecutors order arrest of prominent activists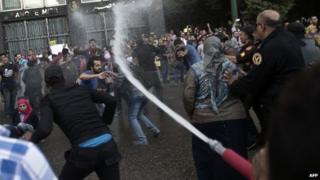 Egyptian prosecutors have ordered the arrest of two prominent activists for inciting a protest in Cairo on Tuesday.
Ahmed Maher, head of the 6 April youth movement, and Alaa Abdel Fattah, took part in the demonstration outside the upper house of parliament.
Prosecutors also ordered that 24 other activists detained at the protest be remanded in custody for four days on suspicion of various charges.
They were calling for the repeal of a new law that restricts demonstrations.
Activists say it appears stricter than those in place during the rule of Hosni Mubarak, who was forced to step down in 2011 after protests led by Mr Maher's group.
The law, they add, effectively replaces the recently expired state of emergency that was declared in mid-August after hundreds of people were killed when security forces cleared two sit-ins in Cairo by supporters of ousted President Mohammed Morsi.
Mr Morsi was deposed by the military in July after mass protests.
'Seriously flawed law'
On Wednesday morning, prosecutors announced that arrest warrants had been issued for Mr Maher and Mr Abdel Fattah after investigations showed they had "incited" people to "violate the protest law" by demonstrating outside the Shura Council building.
Mr Abdel Fattah earlier said that when water cannon failed to disperse the protesters, police officers had started beating and arresting people.
"The interior ministry does not want any protests," Mr Maher told the AFP news agency, adding that "even under Mubarak we could hold protests."
Another prominent activist, Mona Seif, meanwhile complained that she and a group of 15 women and 12 men arrested at the demonstration had been released in the middle of the night on a desert road about 10km (six miles) south of Cairo.
The interior ministry said the protest had not been authorised.
On Tuesday, UN High Commissioner for Human Rights Navi Pillay urged the authorities to "amend or repeal this seriously flawed new law".
"This is a country whose people have proclaimed loudly, clearly, courageously and repeatedly their desire to be able to demonstrate peacefully in accordance with their international human rights," she said.
The law requires organisers of any public gathering, demonstration or meeting of more than 10 people to inform the interior ministry three days in advance, and gives it the right to prohibit any deemed a threat to security and public order, "disrupt citizens' interests" or "obstruct justice". All gatherings for political purposes in and around places of worship are banned.
Police are allowed to forcibly disperse unruly demonstrators and heavy prison sentences are imposed for those who violate the law, including seven years for the use of violence at a protest, one year for covering the face during a protest, and one year for protesting outside a place of worship. Anyone attending an unauthorised protest can be fined $1,500 (£925).
Interim Prime Minister Hazem Beblawi has defended the move, saying: "It is not a law that limits the right to demonstrate, but it aims to protect the right of protesters."