Nigeria raid: Suspected Boko Haram gunmen kill 12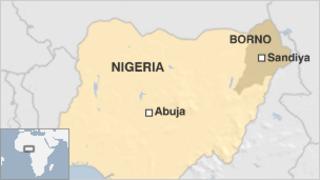 Suspected Boko Haram Islamists have killed 12 people in a raid on a village in north-east Nigeria, police say.
Police said about 30 gunmen also burnt houses and stole cars in the village of Sandiya, in Borno state.
One resident, quoted by the AFP news agency, said Boko Haram accused villagers of collaborating with the security forces to track them down.
President Goodluck Jonathan declared a state of emergency in parts of north-east Nigeria in May.
A resident of Sandiya, Modu Judum, told the Reuters news agency that about 30 armed men, travelling in a convoy of pick-up trucks and motorcycles "stormed the Sandiya village and started chanting 'Allahu Akbar' [God is great], before opening fire on the helpless".
'Revenge'
"Hoodlums invaded the community and killed 12 people," said Borno state police commissioner Lawal Tanko in a statement.
He said the gunmen burnt scores of houses and stole several vehicles in Thursday's raid on the village, which is about 85km (53 miles) from the Borno state capital, Maiduguri.
The Nigerian government imposed a state of emergency in Borno and two other areas of northeast Nigeria in May, to try to combat Boko Haram.
In recent months, the Islamist group has carried out a series of raids in remote north-eastern areas of Nigeria, killing hundreds of civilians.
"The gunmen were on a revenge mission," Sandiya resident Sabitu Ali told AFP.
"They are accusing us of collaborating with security men in tracking them."
Boko Haram, which was declared a foreign terrorist organisation by the United States earlier this month, is fighting to create an Islamic state in the north of Nigeria, where Muslims are in the majority.