Tripoli eats cake to celebrate Libyan militias' withdrawal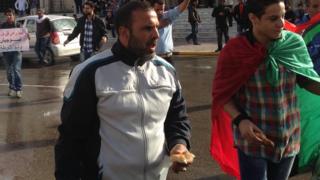 Tripoli residents have been brandishing and eating pastries on the streets this week as a symbol of their victory in forcing militias from elsewhere in Libya to withdraw from the capital.
The city is famous for its baryoosh - a croissant-like brioche - but since the fall of Muammar Gaddafi, its residents have been derided by some in the provinces as cake-eaters.
The capital was one of the last cities to be taken by rebel forces during the 2011 revolution and how it fell is a very testy subject.
Some Misrata militias branded those in the capital as the "baryoosh-eating Tripolitans that we liberated".
Gaddafi's forces in Tripoli were defeated by a combination of local residents and brigades from Misrata, Zintan and Zawia.
The problem for the new government in the two years since the killing of Libya's long-time ruler is that many of these brigades have refused to disarm and refused to leave the capital - until events last Friday.
It was the bloodiest day witnessed in Tripoli since the end of the war in 2011.
Dozens of people were killed and hundreds were injured in a district of Tripoli during protests to evict a Misrata militia from its headquarters.
The militia used anti-aircraft guns and other weapons against the demonstrators.
This resulted in some protesters going home to get their own weapons and bringing back reinforcements of small heavily armed groups from their local districts.
More clashes and deaths followed.
Since then, all or most of the brigades and militias from Misrata have pulled out of Tripoli.
They were given 72 hours to leave by the local council of Misrata following emergency talks with the city's elders - there was a fear that their continued presence in Tripoli would deepen rifts and many Misratans are long-time residents in the capital.
Almond and honey toppings
Now Tripolitans want all the many rogue armed groups in the city to leave.
Each day this week there have been small anti-militia protests in Tripoli - and there you will see people munching on baryooshes, usually served with sweetened frappes, and waving them around.
The demonstrators have even been giving the brioches out to the freshly deployed policemen to show that at last Tripoli is getting the upper hand.
They were the plain baryooshes, not those most loved by Tripoli's residents from Haj Fathi's cafe, where they are topped with crushed almonds and honey or chocolate.
Many shops were closed this week for the general strike to remember those killed by the Misrata brigades.
Some protestors were chanting: "Baryoosh, baryoosh, what's wrong with baryoosh?"
Mohamed Suweidan, a young man sputtering through his last bite at a protest in Algeria square, told the BBC: "We continue to demand that our capital and our cities be free from militias and their bases.
"This Friday there will be another [big] protest… And we want the army and police to support this protest."
Protester Haj Ghaith agreed and said most of the armed groups are preventing Libya from moving forward.
"All the killings and crime is from them. They are the ones who organise these operations, no-one else.
"Everything that's happening in Libya is because of them."
Several armed groups loosely attached to the ministries of defence and interior which occupy unofficial bases have now announced their imminent withdrawal as more and more protests are planned.
Some say it is an opportune time for them to go.
"It's easier for them to go back to their cities or homes now - they've made enough money," one Tripoli resident said.
'Protecting the people'
The bigger quandary for officials will be how to ensure their disbandment and disarmament or integration into the legitimate security forces.
The official army and police have been out in full force on the streets of the capital this week.
The minister of defence says the soldiers are under the command of the chief of staff and that these units have an ID number and rank.
There have been several army graduation ceremonies in recent months for soldiers who trained abroad as Libya pushes ahead to rebuild an army.
Policeman Arif Mustafa-Ahmed mans a post in central Tripoli, sporting a professional uniform and a bullet-proof vest.
He told me some of the men in his unit trained in Algeria and Italy.
"We work for a special operations command under the Ministry of Interior. We take orders... we are not free to act as we want to, we answer to a legitimate government," he said emphatically.
His colleague, who is originally from Benghazi, was quick to add that they come from various cities in Libya and "we are all brothers and former fighters".
But they signed up to the police individually and left their armed groups early on.
When asked if they were prepared to face militias in the event of further civilian protests against them, the policeman from Benghazi replied: "We are here to protect the people.
"If there is a protest, God willing we will be the first ones there."
This will give a sceptical public some hope.
But for now the words of Louis XVI of France's queen is proving sustenance to some of the protesters.
"We ate the croissants Marie Antoinette said we should eat and the militias left," one Tripoli resident quipped.