Somalia gets 888 emergency police line number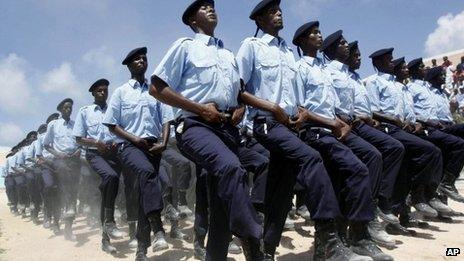 Police in the Somali capital, Mogadishu, have launched an emergency police telephone service for the first time in more than 20 years.
Residents can call the emergency number - 888 - and the authorities say a police car will be sent out.
Police spokesman Mohamed Yusuf Madaleh told the BBC it was part of efforts by international donors to revamp the country's police service.
The government is fighting Islamist militants for control of the country.
The Islamist al-Shabab group has been driven out of Somalia's major towns by a UN-mandated African Union force of some 18,000 soldiers, which is backing the government.
But it still controls many towns and rural areas of southern Somalia - and frequently launches attacks in Mogadishu.
Gen Madaleh told the BBC Somali Service the emergency calls will be rooted to call centres in different areas of the city.
He said the service now had enough cars and officers to deal with requests.
The 888 number is being advertised in the local media. Police promise to send out officers to investigate as soon as possible after a call is logged.
Before the collapse of central government in 1991, Mogadishu had three separate emergency numbers for the police, fire service and ambulance service - none of them available countrywide.
The other two numbers are not yet up and running.
During the civil war, the 888 number was taken over by a private company, which agreed to give it back when asked by the police service, Gen Madaleh said.