Profile: Sultani Makenga, DR Congo's M23 rebel leader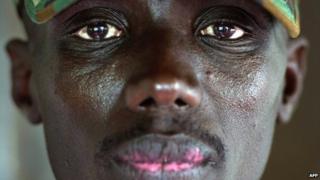 BBC Africa's Farouk Chothia profiles Col Sultani Makenga, the leader of Democratic Republic of Congo's M23 rebel group, who has just surrendered to neighbouring Uganda.
Col Makenga, 40, often walked around with a stick - it symbolised that he was both a cattle-herder and a military commander who demanded order and discipline from his troops.
A tall, thin man born to an ethnic Tutsi family and raised in the hills of the volcanic South Kivu region, Col Makenga had a reputation of being a sharp-shooter and a shrewd and wily military strategist.
Writing in the Thinking Africa blog, DR Congo researchers Timo Mueller and Christoph Vogel recall meeting him in April at an over-run government military base in the small village of Rumangabo in eastern DR Congo.
"It took Makenga approximately 15 minutes to arrive after his men seemingly concluded that we posed no threat to him. He wore civilian clothes - black jeans, black shirt and a black jacket - and his emblematic cap," they write.
"His has an appearance of a reserved, slender, tall man, seemingly too shy to make for an authoritative commander."
'Extensive atrocities'
Col Makenga honed his military skills in Rwanda, where he fought on the side of President Paul Kagame's mainly Tutsi rebels before they took power in Kigali in 1994, ending a genocide that claimed some 800,000 lives in three months.
Some three years later, Col Makenga joined Rwandan-backed troops who seized power in DR Congo, ousting long-serving ruler Mobutu Sese Seko and installing Laurent Kabila - the father of incumbent leader Joseph Kabila - as president.
With the political sands in DR Congo constantly shifting, he broke ties with the Kabila dynasty to wage a rebellion against their rule, accusing them of failing to end the economic and political marginalisation of his minority Tutsi ethnic group in eastern DR Congo.
Col Makenga's military career reached its peak in November 2012 when his forces briefly captured Goma, the main city in eastern DR Congo.
He stature also grew after his fighters off a challenge by his rival in the M23 - Gen Bosco Ntaganda - to depose him as the group's military commander.
Gen Ntaganda fled to Rwanda, where he surrendered to the US embassy. He is now in the custody of the International Criminal Court, awaiting trial on war crimes charges.
Unless he cuts a deal with the Congolese government, Col Makenga risks a similar fate.
Although he has no ICC arrest warrant hanging over his head, the UN Security Council imposed a travel ban and asset freeze on him last year, accusing him of being responsible for the "killing and maiming, sexual violence, abduction, and forced displacement" - a reference to the fact that some 800,000 people fled their homes during the 19-month rebellion.
The US also imposed sanctions on Col Makenga, alleging that he was responsible for "extensive atrocities", including the recruitment of child soldiers.
But as far as Col Makenga is concerned, he fought a legitimate war to promote the rights of the Tutsi ethnic minority.
Throughout this year, there have been rumours that he is in poor health - and his surrender may signal that he is unlikely to ever return to the battlefield.
In the Thinking Africa blog, Mr Mueller and Mr Vogel wrote that he did not look well when they met him.
"One observation was striking: Makenga seemed exhausted, leaning deep - almost crouching - into the chair, while his face and eyes remained vivid as if juxtaposed against his fatigue. His entourage surrounded us, and his mannerisms remained limited and slow," they said.