Ivory Coast 'cocoa barons' jailed for embezzling money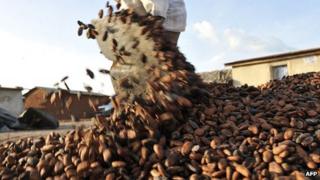 A court in Ivory Coast has sentenced 15 former top officials to 20 years each in prison for embezzling hundreds of thousands of dollars from the cocoa and coffee industry.
The 15, popularly known as "cocoa barons", were also ordered to pay fines worth $138m (£86m).
They were convicted of embezzling tax revenues during the rule of former President Laurent Gbagbo.
Ivory Coast is the world's largest producer of cocoa.
At least 13 others were acquitted at the trial in the main city of Abidjan.
The accused were arrested in 2008 after Mr Gbagbo ordered the investigation into allegations of widespread corruption in the coffee and cocoa sectors.
Mr Gbagbo disputed the result of elections in November 2010, which the UN said he had lost, and refused to leave office resulting in a five-month stand-off.
Forces loyal to current President Alassane Ouattara, backed by UN and French troops, captured Mr Gbagbo in April 2011.
He is now in detention at The Hague awaiting trial on four charges of crimes against humanity, which he denies.
The conflict badly affected Ivory Coast's cocoa industry, which accounts for 40% of global supplies of the natural raw ingredient used in chocolate.