French journalists' bodies repatriated from Mali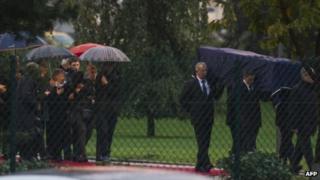 The bodies of two French journalists who were shot dead in northern Mali have been repatriated to Paris.
Radio France Internationale's Ghislaine Dupont, 57, and Claude Verlon, 58, were kidnapped and killed on Saturday after interviewing a local leader in Kidal.
French President Francois Hollande was among those present at Charles de Gaulle airport to receive the bodies.
His Mali counterpart, Ibrahim Boubacar Keita, has vowed "to do everything to find the culprits".
The bodies of the two journalists were flown to the capital of Mali, Bamako on Sunday night.
There, dozens of Malian reporters and colleagues from Radio France Internationale (RFI) marched through the capital's streets in a silent tribute to Dupont and Verlon.
The Air France plane carrying their coffins arrived at Charles de Gaulle airport at about 07:00 local time (06:00 GMT).
They were received by the victims' families, RFI colleagues, the French president and the French Foreign Minister, Laurent Fabius.
Mr Fabius has described the deaths as "cold and calculated assassinations".
Mali's president met members of the RFI management in Bamako on Monday.
"We will do everything to find the culprits," he told them. He said Mali had opened a criminal investigation into the killings and that French investigators were "expected here to work hand-in-hand with their Malian counterparts".
Mr Keita said he considered Ghislaine Dupont like his "own daughter".
On Monday Malian police officials said a number of suspects had been arrested in connection with the murders.
The French government could not confirm than anyone had been detained.
The desert town of Kidal, where the journalists were abducted after interviewing a local leader - is at the centre of a political dispute between ethnic Tuareg nomads and the rest of the population of Mali, who are black Africans.
There are 200 French troops and 200 UN peacekeepers as well as a Malian army base in Kidal.
Radio France Internationale said Verlon and Dupont were on their second assignment there, having travelled to the town in July to cover the first round of the presidential election.
Ambeiry Ag Rhissa, a local official of the MNLA ethnic Tuareg separatist group, said the pair had just left his house after interviewing him when they were kidnapped.
He said he did not see how many kidnappers were there, but other sources said four men forced the journalists into a beige truck which was then driven off into the surrounding desert.