DR Congo's Bunagana town 'empty' as army presses M23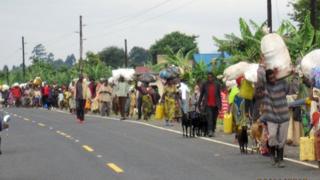 The entire population of Bunagana town in eastern Democratic Republic of Congo has fled fighting between government and rebel forces, residents say.
The BBC's Ignatius Bahizi, who is on the Ugandan side of the town, says missiles are being fired, killing four people.
The government on Monday rejected the M23 rebel group's call for a ceasefire.
At least 800,000 people have fled their homes since the conflict began in March 2012.
Last week, the UN special envoy to DR Congo, Martin Kobler, said the group was all but finished as a military threat in DR Congo.
Government forces captured Bunagana, the main base of the M23 on the DR Congo-Uganda border, the next day.
However, fresh fighting erupted on Monday and the mood on the border is very tense, our correspondent says.
'Market shelled'
Refugees have told him that only Congolese government troops are now in Bunagana, with the town's several thousand residents fleeing into Uganda.
Other BBC reporters in the area say the rebels seem to be fighting back more fiercely than on previous days.
But government troops have taken Mbuzi, a strategic hilltop above Bunagana, after hitting it with tank and rocket fire, UN sources have told the BBC.
Seven rebels were captured, Reuters news agency reports.
"Victory, Victory," soldiers in the nearby town of Ntamugenga chanted after receiving a radio message that Mbuzi was under government control, a journalist with the AFP news agency reports from the scene.
Government forces are now targeting three other hilltops, where dozens of rebels are hiding, an army official told AFP.
Shells fired by the M23 have fallen on both sides of the border, with at least four people killed and 17 wounded in DR Congo, various sources have told the BBC.
They said the shells had landed on a market and a police station in Bunagana.
Ugandan district commissioner Ahmed Mustapher Doka told the BBC's Focus on Africa radio programme that Ugandan troops have been deployed near the border to instil "confidence" in the population.
Ugandan territory was shelled on four occasions as the fighting spilled over, he said.
Security officials ordered the closure of shops along the border, and told residents to move deeper into Ugandan territory, our reporter says.
The latest violence follows a string of victories by government troops who have driven rebels from all towns they once controlled during a 20-month rebellion.
Peace talks in the Ugandan capital, Kampala, broke down last month following two months of negotiations.
On Sunday, M23 leader Bertrand Bisimwa called for a ceasefire to "allow the continuation of the political process".
He urged rebel commanders to "ensure the strict observance of this order".
However, on Monday the M23 said in a statement that the government had launched a new assault using "heavy arms".
Government spokesman Lambert Mende said the government wanted the M23 to "clearly announce the end of their armed rebellion".
The M23 should also give up its weapons, he said, in a statement.
However, the government was prepared to give the M23 "one last chance", Mr Mende added, without elaborating.
BBC Africa security correspondent Moses Rono says the defeat of the M23 would send a powerful message to at least 10 other rebel groups operating in the area.
It would raise hope that a lasting peace for the troubled nation may be in sight, he adds.
The M23 movement is named after a 23 March 2009 peace deal that ended four years of rebellion in eastern DR Congo.
They took up arms once more in April 2012, accusing the government of not respecting the agreement.
The rebels briefly occupied the eastern Congolese city of Goma in November 2012 before pulling out under international pressure.
Government forces have been backed by a UN intervention brigade deployed earlier this year to confront the M23 and other armed groups.
Eastern DR Congo has been wracked by conflict since 1994, when Hutu militias fled across the border from Rwanda after carrying out a genocide against Tutsis and moderate Hutus.
The M23 are mainly ethnic Tutsis, like most of Rwanda's current leaders.
Rwanda and Uganda deny Congolese and UN claims that they have supported the M23 rebels.
Inside DR Congo
The Democratic Republic of Congo covers 2,344,858 square km of land in the centre of Africa, making it the 12th largest country in the world.
Eastern DR Congo is awash with a variety of different rebel groups – some have come from neighbouring countries, while others have formed as self-defence groups. Many are taking advantage of the lack of a strong state to seize control of the area's mineral riches.
DR Congo has abundant mineral wealth. It has more than 70% of the world's coltan, used to make vital components of mobile phones, 30% of the planet's diamond reserves and vast deposits of cobalt, copper and bauxite. This wealth however has attracted looters and fuelled the country's civil war.
Despite the country's size, transport infrastructure is very poor. Of 153,497km of roads, only 2,794km are paved. There are around 4,000 km of railways but much is narrow-gauge track and in poor condition. Waterways are vital to transport goods but journeys can take months to complete. Overcrowded boats frequently capsize, while DR Congo has more plane crashes than any other country.
With an estimated population of 71 million, DR Congo is the fourth most populous country in Africa. Some 35% of the population live in cities and the capital Kinshasa is by far the largest, with more than 8 million inhabitants. DR Congo has around 200 ethnic identities with the majority of people belonging to the Kongo, Luba and Mongo groups.
Given its size and resources DR Congo should be a prosperous country, but years of war, corruption and economic mismanagement have left it desperately poor. In 2011 it lags far behind in many key development indicators, with average life expectancy increasing by only 2 years since 1980, after a period when it actually fell during the mid 1990s.