Yaya Toure joins UN campaign to save elephants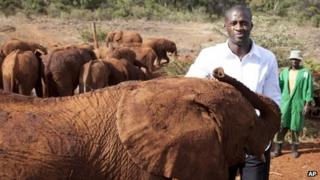 Football star Yaya Toure has joined a UN campaign against poaching, warning the slaughter of elephants threatens their existence.
Mr Toure said there were only 800 of the "magnificent creatures" left in his country, Ivory Coast, whose national team is known as "The Elephants".
He has been appointed a goodwill ambassador by the United Nations Environment Programme (Unep).
Poaching has risen sharply in Africa in recent years, fuelled by Asian demand.
Elephant tusks are used to make ornaments and rhino horns for traditional medicine.
"Poaching threatens the very existence of the African elephant and if we do not act now, we could be looking at a future in which this iconic species is wiped out," the Ivorian footballer said at a press conference in Kenya's capital, Nairobi.
"Ivory Coast's national team is named 'The Elephants' after these magnificent creatures that are so full of power and grace, yet in my country alone there may be as few as 800 individuals left," he added.
Ivory trade is banned under the Convention on International Trade in Endangered Species of Wild Fauna and Flora (Cites).
Conservationists estimate that at least 17,000 elephants were illegally killed in 2011 alone.
Large-scale seizures of ivory destined for Asia reached an all-time high in 2011, more than doubling since 2009, UNEP says.
Unep Executive Director Achim Steiner welcomed the fact that Mr Toure, the reigning African Footballer of the Year and Manchester City midfielder, has joined the campaign against wildlife crime.
He was a "particularly powerful African voice" who would inspire action in efforts to tackle environmental challenges, Mr Steiner said.
Mr Toure was on Tuesday put on the shortlist for the world footballer of the year award.