Sudan's Omar al-Bashir pledges to resolve Abyei dispute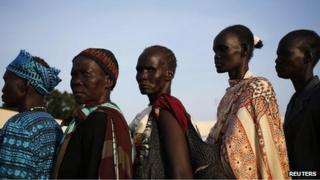 Sudan's President Omar al-Bashir has pledged to resolve the territorial dispute over Abyei, as voting continues in an unofficial referendum on the region's future.
Abyei's Dinka Ngok ethnic group organised the referendum to demand integration into South Sudan.
The Arabic-speaking Misseriya oppose the vote, saying they want Abyei to remain in Sudan.
Mr Bashir said he would work with South Sudan to find a solution.
Abyei abuts both Sudan and South Sudan - which seceded in 2011 - and is claimed by both countries.
'Obstruction'
A 2005 peace deal that paved the way for a Southern vote on independence in 2011 was supposed to give Abyei a separate referendum on whether to be part of Sudan or South Sudan.
However, the two sides cannot agree on who is eligible to vote in the referendum and so it has not been held.
Mr Bashir said he and South Sudan's President Salva Kiir would continue to look for a solution that "can bring satisfaction to the local communities there".
Hundreds of people have been voting for a second day in the referendum organised by local leaders of the Dinka Ngok ethnic group.
Ballot are papers are marked with two symbols - a pair of clasped hands symbolising a vote to be part of Sudan, and a single hand if people want to join South Sudan, AFP news agency reports.
The Misseriya, who move back and forth through Abyei grazing their cattle, have rejected the referendum.
"What happens in this referendum is none of our business. We don't care about it," Abyei's top Misseriya chief, Mukhtar Babo Nimir, told AFP.
South Sudan also says that it is opposed to the unofficial referendum.
The African Union and United Nations have warned that the referendum could enflame tensions between the two countries.
The UN has some 4,000 peacekeepers in Abyei.
On Sunday, the AU Peace and Security Council said it was unable to visit Abyei because of "obstruction" by Sudan.
Khartoum had "contrived security reasons", it said.
Abyei's Dinka Ngok residents are culturally and ethnically allied to South Sudan and backed its rebel army during decades of civil war against Khartoum's rule.
However, the Arabic-speaking Misseriya people also see it as their ancestral homeland and want to remain in Sudan.
North and South Sudan have suffered decades of conflicts driven by religious and ethnic divides, with an estimated 1.5 million people killed in the civil war.
Both Sudan and the South are reliant on their oil revenues, which account for 98% of South Sudan's budget. But the two countries cannot agree how to divide the oil wealth of the former united state. Some 75% of the oil lies in the South but all the pipelines run north. It is feared that disputes over oil could lead the two neighbours to return to war.
Although they were united for many years, the two Sudans were always very different. The great divide is visible even from space, as this Nasa satellite image shows. The northern states are a blanket of desert, broken only by the fertile Nile corridor. South Sudan is covered by green swathes of grassland, swamps and tropical forest.
Sudan's arid north is mainly home to Arabic-speaking Muslims. But in South Sudan there is no dominant culture. The Dinkas and the Nuers are the largest of more than 200 ethnic groups, each with its own languages and traditional beliefs, alongside Christianity and Islam.
The health inequalities in Sudan are illustrated by infant mortality rates. In South Sudan, one in 10 children die before their first birthday. Whereas in the more developed northern states, such as Gezira and White Nile, half of those children would be expected to survive.
The gulf in water resources between north and south is stark. In Khartoum, River Nile, and Gezira states, two-thirds of people have access to piped drinking water and pit latrines. In the south, boreholes and unprotected wells are the main drinking sources. More than 80% of southerners have no toilet facilities whatsoever.
Throughout the two Sudans, access to primary school education is strongly linked to household earnings. In the poorest parts of the south, less than 1% of children finish primary school. Whereas in the wealthier north, up to 50% of children complete primary level education.
Conflict and poverty are the main causes of food insecurity in both countries. In Sudan, many of the residents of war-affected Darfur and the border states of Blue Nile and South Kordofan, depend on food aid. The UN said about 2.8m people in South Sudan would require food aid in 2013. The northern states tend to be wealthier, more urbanised and less reliant on agriculture.