DR Congo soldiers and M23 rebels clash near Goma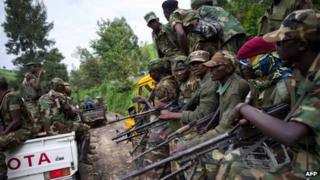 Heavy clashes have broken out in eastern Democratic Republic of Congo between M23 rebels and the army.
The fighting near Goma city comes days after peace talks in the Ugandan, capital, Kampala, broke down following two months of negotiations.
The BBC's Maud Jullien in DR Congo says the main sticking point is the future of rebel commanders who are targeted by international sanctions.
The government has refused to grant them amnesty.
Our correspondent says they were offered exile, which the rebels have refused.
Meanwhile, further north in DR Congo's Ituri province the medical charity Medecins sans Frontieres (MSF) says 100,000 people have been forced from their homes since August in fighting between the army and another rebel group, the Patriotic Resistance of Ituri Militia (FRPI).
MSF's Mariano Lugli in Ituri's main city of Bunia told the BBC French service that fighting has escalated this week.
He said MSF was the only non-governmental organisation still operating in the area and most medical facilities had been looted and destroyed.
UN watching
The UN has deployed a new intervention brigade to eastern DR Congo with a stronger mandate to confront armed groups.
During previous heavy clashes near Goma in August, the new UN force fought alongside the Congolese army and the M23 eventually retreated, our reporter says.
The intervention force it is not involved in the current fighting, but is in constant contact with the Congolese army, she says.
The fighting began at about 02:00 GMT in Kanyamahoro and Kibumba about 20km (12 miles) north of Goma, the main city of North Kivu province.
Each side accuses the other of starting the confrontations.
At least 800,000 people have fled their homes in DR Congo since the M23 launched its rebellion in April 2012.
The rebels briefly occupied Goma in November 2012 before pulling out under international pressure.
The M23 rebel movement is named after a 23 March 2009 peace deal that ended four years of rebellion in eastern DR Congo.
The rebels complained the Congolese government had failed to honour the agreement, which included integrating them into the army.
Rwanda and Uganda deny Congolese and UN allegations that the neighbours are backing the M23 rebels.
The M23 are mainly ethnic Tutsis, like most of Rwanda's leaders.
Eastern DR Congo has been wracked by conflict since 1994, when Hutu militias fled across the border from Rwanda after carrying out a genocide against Tutsis and moderate Hutus.