Nigerian militants raid northern city of Damaturu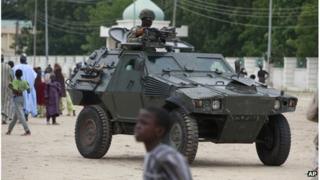 Suspected Boko Haram militants have engaged security forces in a lengthy gun battle and raided a hospital in the northern Nigerian city of Damaturu.
Residents told the BBC that it was a "big, audacious attack" and that assailants stole drugs from the hospital and drove off in ambulances.
Meanwhile, the military said it had killed 74 suspected Boko Haram militants in a raid in Borno state.
Authorities have recently stepped up their campaign against the militants.
North-eastern Nigeria is the focus of an insurgency by the group that began in 2009 and aims to create an Islamic state.
President Goodluck Jonathan urged the military to up its campaign against Boko Haram five months ago.
Damaturu is the main city in Yobe state, which lies to the west of Borno. It has been calm for more than a year, and there is a large military presence in there.
'Slow response'
Nonetheless, gunfire rocked the city for some seven hours after a group of about 20 gunmen - some in military uniform - targeted the hospital late on Thursday.
Clashes between militants and the security forces spread to other parts of the city. A health worker described seeing a police vehicle ferrying corpses to the mortuary.
The resident who described the attack as "audacious" said the gunfire was heavy, continuous, and loud.
He also said that people in Damaturu were surprised that it had taken the military at least an hour to respond.
Authorities later imposed a 24-hour curfew, and streets were deserted on Friday.
The military raid in Borno state involved "ground and aerial assault" and "led to the destruction of the identified terrorist camps," said army spokesman Lt Mohammed Dole.
Lt Dole said the latest raid had been carried out on Thursday and that two soldiers had been wounded.
The BBC's Will Ross reports from Nigeria that it seems surprising that Boko Haram camps are still being found, given all the resources available to the army.
The army's claims about military operations against the group are hard to verify - there has been no mobile phone network in Borno state since the latest offensive was launched.
Nigeria's campaign has been criticised by human rights groups.
Amnesty International said earlier this month that hundreds had died in detention in north-eastern Nigeria, some from starvation or extra-judicial killings.
Nigeria's interior said the report was "not true".