UN troops from Chad killed in Mali's Tessalit town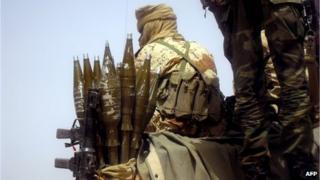 Two UN peacekeepers from Chad have been killed and six others wounded - some "severely" - in a suicide attack in northern Mali, the UN has said.
Civilians also died when a bomber drove an explosives-laden vehicle to the checkpoint in Tessalit before blowing himself up, the statement said.
One child was killed and another injured, Reuters quoted Mali government officials as saying.
The UN has nearly 6,000 troops in Mali to tackle militant Islamists.
UN Secretary-General Ban Ki-moon said the attack "will not affect the determination of the United Nations to support the restoration of security, stability and lasting peace in Mali".
The UN Security Council condemned the attack "in the strongest terms".
It expressed condolences to the families of the peacekeepers killed, as well as to the governments of Mali and Chad.
The Security Council said those responsible would be held accountable and it called Mali "to swiftly investigate... and bring the perpetrators to justice".
Mali's defence ministry said four bombers took part in the raid and all died, Reuters reported.
The UN's special representative to Mali, Bert Koenders, earlier this month called for more troops to be deployed following an upsurge in bombings and rocket attacks.
French troops captured northern Mali's key cities and towns from the militants after launching an operation to oust them in January.
It handed security responsibility to the UN force in July.
The force, known as Minusma, has less than half of its mandated strength of more than 12,000 military personnel.