Returning to Sudan's Abyei region to vote for secession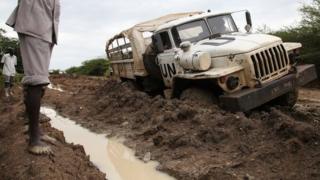 Fears are growing that violence could erupt once more in the disputed region of Abyei, claimed by both Sudan and newly independent South Sudan, as southerners plan to hold a unilateral referendum, reports Hannah McNeish from the area.
With suitcases on heads and babies in arms, thousands of people are braving rivers of mud, bumpy truck rides and shelling out all their savings to get back to Abyei.
Hailing from the Dinka Ngok ethnic group, they are determined to hold an unofficial referendum next week to decide whether the small heart-shaped area should be part of Sudan or join South Sudan.
The move comes after both countries failed to meet a deadline to organise an internationally backed referendum this month, threatening to poison the fragile peace between former civil war foes and once again send residents running for their lives.
Julia William Deng, 23, gave up her nursing course, a 24/7 Facebook addiction and thousands of dollars to go back from Australia to Abyei, where power and water have dried up and many people displaced by violence live in flimsy, cramped huts.
'Bomber planes'
Sporting a tattoo representing the curse of Abyei, with a bird of peace but a flower that everyone wants to own, Ms Deng accepts that she is risking her life to return to an area rich in green pastures and oil but decimated by an ongoing, violent tug of war.
"I know it's not safe for me, but at the end of the day, it's my place, it's my village where I belong," she says.
Choking back the tears, Ms Deng says that she cannot escape the stories of orphans, widows and those sent mad by seeing family members killed in fighting in 2008 and 2011.
"There's kids that told me stories that their mothers aren't alive, because of what happened… Every day, the story gets worse. The more I talk to people, the more they tell me about what happened to them."
Abyei's Dinka Ngok residents are culturally and ethnically allied to South Sudan and backed its rebel army during decades of civil war against Khartoum's rule.
However, the Arabic-speaking Misseriya people, who have traditionally grazed their cattle in Abyei and like the Dinka Ngok see it as their ancestral homeland, want to remain in Sudan.
The two sides cannot agree on who is eligible to vote in the referendum and so it has not been held.
A 2005 peace deal that paved the way for a Southern vote on independence in 2011 was supposed to give Abyei a separate referendum on whether to be part of Sudan or South Sudan.
But in Abyei, ballot boxes never appeared and tanks rumbled in, bomber planes buzzed overhead and militias stormed in alongside Sudanese troops.
'Unilateral declaration'
A raft of internationally brokered deals have fallen by the wayside, analysts say.
Khartoum is not keen to implement an African Union (AU) proposal to hold a referendum this month to solve the impasse in the absence of a negotiated settlement.
After losing the South and 75% of its oil at secession, diplomats say that for Sudan's governing National Congress Party, keeping Abyei has become a political necessity at a time when tensions are running high following a wave of recent protests.
But in bombed-out Abyei, where telephone masts twist through houses like a macabre runaway rollercoaster, and the wind whistles through abandoned buildings stripped of roofs and fittings, nothing suggests a vote is being organised.
AU representatives would not comment on Abyei.
Deng Alor, a former South Sudan minister now championing the unofficial referendum, says Sudan has thwarted efforts to hold the vote.
Regardless, he says that the people of Abyei will have their say now or never in a vote that Sudan "has rejected five times", most recently on the grounds that the Misseriya are not adequately represented.
"President [Omar al-]Bashir is determined, no matter how long it takes him, he will not accept the referendum commission to be formed. He will not accept the referendum to be held here, so it's a waste of time."
Mr Alor says that if the AU does not support a vote, the Dinka Ngok will simply declare their choice of South Sudan and then lobby for international support.
"If they say the referendum cannot happen this month, the people of Abyei will hold [a] community based referendum, and that would be unilateral, and organised by the people of Abyei," he says.
Zacharia Diing Akol, an analyst at South Sudanese think-tank The Sudd Institute, says that history dictates that this would only produce one result: "Violence. Remember we are talking about an area that has been attacked in the recent past by Sudan twice, in 2008 and in 2011," he says.
"The attack on each occasion was coming out of the fear that they were losing, that they were no longer in control and they wanted to control the place."
People on the ground agree, and are warning the uninitiated like Ms Deng about what to expect.
'Many orphans'
"They have told me stories: 'Can you run? Can you do this or that? Can you stay for four to five days without eating?' And I've told them that I don't think I can do it."
Anger over the killing of Dinka Ngok paramount chief Kuol Deng Kuol in May could boil over in the coming weeks when Misseriya are due to cross with their cattle through Abyei into South Sudan.
As rumours swirl about Sudan massing men in northern Abyei and South Sudan boosting plain-clothes forces in villages further south, some fear that this year's migration could spark clashes that the 5,000 UN peacekeepers in the region would fail to extinguish.
Abyei also remains a thorn in relations between the two countries and fresh fighting could derail other agreements on oil exports and contested borders that last year provoked weeks of heavy border fighting and fears of a return to all-out war.
While analysts say that Sudan is loath to let Abyei's vast arable land and oil fields go, South Sudan's largest ethnic group, the Dinka, cannot bear to lose what they regard as the land of their forefathers.
Sudanese officials and the Misseriya have already threatened violence if a unilateral referendum is held, while the AU and UN have warned of wider conflicts if Abyei erupts.
In an Abyei camp with no water, little food and only enough tents for the children, returnee Mary Ajok is content to sleep outside and wait until she can reclaim her homeland for future generations.
"We are just hoping this referendum succeeds so the children can come back," she says of her eight children and the many orphans waiting further South, whose memories of Abyei are of indelible bloodshed.
"We ran for our lives, and because there was war and a lot of destruction and the killing and the burning of houses was too much. The men were dead and the widows had to take the kids away for survival.
"Now we are back in the hope that there will be a referendum... We don't know what will happen but we cannot leave this land. It's ours."
A steady stream of people is returning to vote with their feet if nothing else. But if there is no real agreement, they may soon have to turn on their heels and flee.
Both Sudan and the South are reliant on their oil revenues, which account for 98% of South Sudan's budget. But the two countries cannot agree how to divide the oil wealth of the former united state. Some 75% of the oil lies in the South but all the pipelines run north. It is feared that disputes over oil could lead the two neighbours to return to war.
Although they were united for many years, the two Sudans were always very different. The great divide is visible even from space, as this Nasa satellite image shows. The northern states are a blanket of desert, broken only by the fertile Nile corridor. South Sudan is covered by green swathes of grassland, swamps and tropical forest.
Sudan's arid north is mainly home to Arabic-speaking Muslims. But in South Sudan there is no dominant culture. The Dinkas and the Nuers are the largest of more than 200 ethnic groups, each with its own languages and traditional beliefs, alongside Christianity and Islam.
The health inequalities in Sudan are illustrated by infant mortality rates. In South Sudan, one in 10 children die before their first birthday. Whereas in the more developed northern states, such as Gezira and White Nile, half of those children would be expected to survive.
The gulf in water resources between north and south is stark. In Khartoum, River Nile, and Gezira states, two-thirds of people have access to piped drinking water and pit latrines. In the south, boreholes and unprotected wells are the main drinking sources. More than 80% of southerners have no toilet facilities whatsoever.
Throughout the two Sudans, access to primary school education is strongly linked to household earnings. In the poorest parts of the south, less than 1% of children finish primary school. Whereas in the wealthier north, up to 50% of children complete primary level education.
Conflict and poverty are the main causes of food insecurity in both countries. In Sudan, many of the residents of war-affected Darfur and the border states of Blue Nile and South Kordofan, depend on food aid. The UN said about 2.8m people in South Sudan would require food aid in 2013. The northern states tend to be wealthier, more urbanised and less reliant on agriculture.